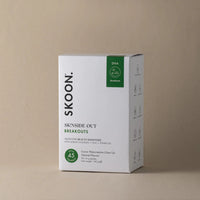 All-in-One beauty smoothie BREAKOUTS 30
Buy SKOON. BREAKOUTS All-in-One Beauty Smoothie - clear skin sachets (30 x 6 g) filled with 45 clarifying actives. These convenient on-the-go sachets are easy to pop into your bag or to drink as a nightcap. Calories are super low - below 15 per sachet. The watermelon flavour is natural, fresh and fruity. The 45 actives per sachet are based on 5 ultimate skin stacks:
Stack 1 - Probiotics for good gut-skin axis

Stack 2 - Antioxidants to calm redness + inflammation

Stack 3 - Vitamins & Minerals to control sebum

Stack 4 - Collagen Builder resurfaces skin

Stack 5 - Digestive Enzymes to maximise nutrient uptake
MY DNA CHOICES. likes
Food for your skin
Pair with SKOON. skincare range
No gluten
No added sugar
No added dairy
No added soy
Contains no GMO
Pescatarian friendly
Pair with these tests
If you would like to determine your genetic predisposition for skin breakouts, you can order this test online:
Flavour
Green Watermelon Clean Up

Use | Tips
Stir 1-2 sachets into 200 ml of water or juice or simply add to your favourite fruit smoothie. Optional, add some crushed ice. 
Full ingredient list
Type 1 Hydrolyzed Marine Collagen Peptide (Fish) (2.14 g), Baobab Fruit Powder, Methylsulfonylmethane (MSM), Silica, SKOON. Vitamin and Mineral Blend [Magnesium Citrate, Ascorbic Acid (Vitamin C), Choline Bitartrate, Potassium Chloride, Iodine Amino Acid Chelate, Zinc Bisglycinate Chelate, Selenium Amino Acid Chelate, Nicotinamide, Vitamin E Acetate, Vitamin B5 Pantothenic Acid, Copper Amino Acid Chelate, Vitamin B6 Pyridoxine HCL, Vitamin B1 Thiamine, Vitamin B2 Riboflavin, Vitamin A Acetate, Vitamin B9 Folic Acid, Vitamin K2 (Menaquinone-7), Vitamin B7 Biotin, Vitamin D3, Vitamin B12 Cyanocobalamin], SKOON. Gut and Skin Targeted Probiotic Blend [Lactobacillus Acidophilus, Saccharomyces Boulardii, Bacillus Coagulans, Bifidobacterium Bifidum] (2 billion CFU/ per serving), Orafti® Inulin, Acetyl-L-carnitine, L-Glutamine, Pink Himalayan Salt, SKOON. Antioxidant Blend [Indian kino tree Extract (Pterostilbene), Turmeric Extract, Green Rooibos Extract, Honeybush Extract, Japanese Pagoda Tree Extract (Quercetin), Resveratrol, Coenzyme Q10, Astaxanthin], Shilajit Extract (Fulvic Acid), Di-indolyl Methane (DIM), Citric Acid, Tartaric Acid, Malic Acid, Non-nutritive Sweetener (Steviol Extract), Watermelon Flavour, SKOON. Digestive Enzyme Blend [Amylases, Proteases, Lipases, Lactases and Cellulases], Spirulina, Chlorella, L-Glutathione.

ALLERGENS: FISH, IODINE.
Allergens
Fish. Made in a factory that processes cow's milk, egg, soy, gluten (wheat, barley, and oats), fish, tree nuts, and peanuts.
All ingredients are sustainably sourced, including high-quality Type 1 Marine Collagen.
Warnings | Cautions
Do not use if pregnant and breastfeeding.