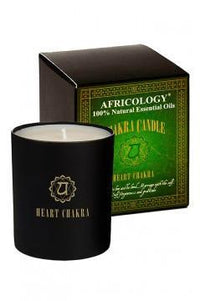 Our body's energy pathways, otherwise known in Sanskrit as "chakras", are metaphysically interpreted as our database of each thought, emotion or memory of an experience. These are recorded not only in our cells, but stored in our chakras. The state of each chakra also reflects the health of our endocrine system. The Africology chakra massage candles are made up of seven different candles representing each chakra. Skilfully blended essential oils are created for each Chakra candle. Safe for massage, each candle has a luxurious base of shea butter to deeply hydrate the skin.
Benefits
Lighting one of these candles create a sensory and physical experience that brings a sense of calm
Select the colour or smell from each chakra candle then see how the interpretation relates to your life lesson and how this is expressed in your body as an uneasiness
Remember, your biography becomes your biology
MY DNA CHOICES.  likes
Free from soy as individuals with thyroid and other health problems should not be massaged with soy.
Proudly South African
All natural ingredients
Free from harmful chemical ingredients that cause DNA mutations, endocrine disruption and cancer
"We love this idea by Africology! Such a clever way of making us think of our body's chakras. Ideal for lighting at bath time  - shut the bathroom door, put on your favourite treatment mask and soak in some bath salts for relaxation and time out. Candles make the ideal gift for a special friend or as a little treat for you. Adding candles to our environment and lifestyle is a perfect way to de-stress as the flame brings light and the fragrance calms the senses, helping us to relax. Most candles are made of paraffin wax, which creates highly toxic benzene and toluene when burned (both are known carcinogens). In fact, the toxins released from paraffin candles are the same as those found in diesel fuel fumes! Many candles also contain artificial scents and dyes, which release additional chemicals when burned. Fortunately, there are some great alternatives to scented candles. These are beeswax, soy-based candles or a combination of the two". 
Margie
Storage
Store in a cool, dry and dark place.