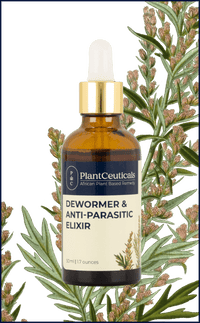 Intestinal parasites are mostly microscopic organisms that multiply in the human gastrointestinal tract. Here they live alongside colonies of other good and bad bacteria and fungi and can cause digestive issues, stomach pain, appetite fluctuations, and a number of other physical symptoms. It is good practice to regularly de-worm and parasite cleanse. All bitter herbs are excellent natural digestive aids as they stimulate the gall bladder.

MY DNA CHOICES. likes
All plants used in this formulation are grown on The Oaklands farm and extracted without the use of chemicals. Our growing methods are inspired by the principals of permaculture and Korean natural farming, honouring biodiversity and the beneficial elements of the natural environment to enhance the medicinal values of the plants.
The Power of the Plants
WORMWOOD (Artemisia Afra) is a natural antiparasitic herb used to expel tapeworms and other internal worms and parasites. It also improves gallbladder and liver function and stimulates digestion.
MUGWORT (Artemisia Vulgaris) is part of the Wormwood family and helps rid the body of parasites and candida, including Staphococcus, Bacillus, B.dysenteriae, Streptococci, E.coli, B.subtillis and Pseudomondads.
FERMENTED GARLIC IN RAW HONEY combines two super-charged ingredients both well known for their anti-bacterial and anti-viral properties. These two ingredients mixed together and fermented have double the potency, aiding in detoxification, liver health, improving digestion, lowering cholesterol and lowering blood pressure. All this, whilst also improving your immunity.
Use | Tips
As a regular digestive aid, de-worming agent and parasite cleanse.
Dosage
Adults: 20 drops once or three times daily or when needed or one week per month.
Children: 3 to 9 years 10 drops three times daily or when needed.
It is not advised to take bitter herbs, such as these, for longer than a 14 day period without taking a break.
There is no one size fits all with plant remedies. Users are encouraged to find their own sweet spot when using natural remedies. With all remedies, it is recommended to take periodic breaks from use.
Warnings
Please note that anyone who is pregnant, nursing, chronically ill, elderly or under the age of 18 (eighteen) must discuss the use of these products with a physician prior to consumption and/or use.
Ingredients
Wormwood, Mugwort, Fermented Raw Honey and Garlic, Vegetable Glycerine and Alcohol
Storage
Store in a cool, dark, dry place.
Disclaimer
The Provider shall not be held liable for any medical claims brought by the User and all content on the Website, including but not limited to manufacturers' testimonials and/or product recommendations shall in no way be binding on the Provider. All statements made regarding the listed products have not been evaluated by the Medicines Control Council of South Africa or the Food and Drug Administration of the United States of America. These Products are not intended to diagnose, treat, cure, or prevent any disease and are not advertised, marketed, listed, and/or sold under said intention. All information presented on the Website should not be construed as promoting a substitute for, or alternative to, information from health care practitioners. The Provider takes no responsibility for the improper use of these Products, side effects or incorrect dosages. The User recommends consulting with a qualified medical doctor or veterinarian when preparing a treatment plan for any and all diseases or ailments.