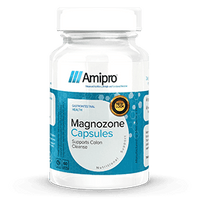 Effective & Gentle Oxygen Release for Colon Cleanse
This formula releases oxygen and ozone into the gastrointestinal tract. This creates an aerobic environment which is detrimental to undesirable anaerobic bacteria and candida. Use as part of an intensive gut cleanse program or as needed to maintain gut health or relief from constipation
Benefits 
Supports colon cleansing
Magnozone provides an aerobic environment in the intestines and colon
This is beneficial to the aerobic (good) flora and inhibitory toward anaerobic, undesirable (bad) flora
It can also help eliminate Candida
Users of Magnozone frequently report a feeling of calmness and well-being in addition to weight loss, decreased appetites and cravings, and an increased attention span
Fibre-type laxatives can cause a very loose stool with most times a violent excretion versus oxygen-based intestinal and colon cleansers like Magnazone, which is gentle, compliment the body's natural method of digestion and elimination, are non-spasmodic and non-habit forming
Magnazone assists in oxidising the undigested putrified matter that becomes impacted on the wall of the intestines and the colon
One teaspoonful of Magnazone generates approximately 7.5 litres of oxygen
MY DNA CHOICES. likes
Gluten-free
Non-GMO
Vegetarian
Packaged in recyclable material
Best suited for
Those who require colon cleansing
Ingredients
60 Vegicaps | 120 Vegicaps | 50g Powder
Serving Size: 3-5 Vegicaps | 1-2 grams
Servings per container: 20 - 40 
Amount per 1 Vegicap:
| | |
| --- | --- |
| Ingredients | Amount  |
| Magnesium (oxide hydroxide) | 308 mg |
| Vitamin C | 5 mg |
| Lemon bioflavonoids | 20 mg |
Other Ingredients
Diatomaceous earth, maltodextrin, lemon bioflavonoids, microcrystalline cellulose
Directions
Take 3-5 vegicaps on an empty stomach morning and evening with an extra glass of water or as directed by your health care practitioner. 
How often should you use Magnozone?
After the initial cleansing period, most individuals use Magnozone once or twice weekly as maintenance.
Cautions | Warnings | Interactions
Consult your healthcare practitioner before use. Do not exceed recommended dosages unless on the advice of a health care provider. If you are on medication, taking nutritional supplements, suffering from any medical condition, pregnant, or breastfeeding, it is advisable to seek medical advice before starting any new food, supplement, or remedy. Do not use this product if you are allergic to any of the ingredients. Keep out of the reach of children.
If you have liquid stools after taking Magnozone:
It is common for Magnozone to turn this undigested material into carbon dioxide and water. It is common to have liquid stools during the use of Magnozone - this is a sign that the product is working.
Storage
Store tightly closed in a cool, dry, dark place.
Medical disclaimer
Nothing on our website should be construed as medical advice and we encourage you to obtain professional advice before taking any action on the strength of information, ideas, or opinions expressed on this website. The products are not intended to cure or prevent any condition and we recommended that you contact your personal physician or doctor prior to the consumption of any product. We make no representations or warranties regarding the efficacy and/or suitability and/or fitness for purpose of the product including in connection with any condition.