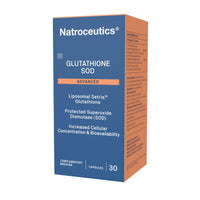 Glutathione is known as the mother of all antioxidants and is key to immune system function. Higher glutathione levels are associated with enhanced physical health, fewer illnesses, and improved quality of life. Glutathione is directly influential on telomerase activity which is an important biomarker for cell proliferation and life.
Superoxide Dismutase (SOD), the "Youth Molecule", is the only antioxidant agent able to regulate the production of superoxide anion radicals, thus preventing cell oxidation and damage. Superoxide anions are one of the strongest reactive oxygen species (ROS) and contribute to many health challenges. SOD neutralises these radicals into hydrogen peroxide and oxygen. Through aging and poor health, our SOD capacity diminishes, accelerating cellular damage. SOD can help manage cellular damage due to aging or illness.
Natroceutics Glutathione SOD Advanced has been developed to effectively increase cellular levels of these primary antioxidants. Regular glutathione and SOD are degraded and lost through digestion, making oral delivery ineffective. Natroceutics uses Setria™ glutathione, protected by Cellg8™ liposomal technology. This delivers more bioavailable glutathione safely through the gut to be absorbed. Our SOD, sourced from French melon, is delivered through a patented microencapsulation process, effectively and safely increasing SOD levels in the body.
MY DNA CHOICES. likes
Quality is assured through GMP (Good Manufacturing Practice) and batch testing.
Clean and free from agrochemicals, artificial additives, and heavy metals.
Studied by experts in the field of Glutathione and SOD.
Designed to deliver therapeutic efficacy.
Vegan-friendly – 100 % plant-based.
Fully recyclable packaging and supporting environmental regeneration.
Pair with these tests
To determine whether you need to add glutathione as a nutrient co-factor, we recommend that you order one of these tests online:
Directions
Adults and children over 12 take 1-2 tablets a day or as directed by your healthcare practitioner. 
Storage
Store in a cool, dry dark place.
Medical disclaimer
Nothing on our website should be construed as medical advice and we encourage you to obtain professional advice before taking any action on the strength of information, ideas, or opinions expressed on this website. The products are not intended to cure or prevent any condition and we recommended that you contact your personal physician or doctor prior to the consumption of any product. We make no representations or warranties regarding the efficacy and/or suitability and/or fitness for purpose of the product including in connection with any condition.