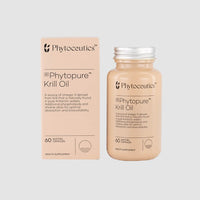 Phytopure™ Krill Oil is a source of omega-3 derived from krill that is naturally found in pure Antarctic waters.
The species of krill are packed full of long-chain omega-3 fatty acids which are better recognised by the body because they are mostly attached to phospholipids, and thus result in higher cellular incorporation.
In addition to omega-3 and phospholipids, Phytopure™ Krill Oil also contains the beneficial ingredients choline and astaxanthin for optimal heart, brain, liver and skin health.
The krill used in this product are harvested using Eco-Harvesting™ to ensure reliable consistent quality control and sustainable practices are followed.
MY DNA CHOICES. likes
Capsules per container: 60
GMO free
Gluten free
Sugar free
Eco-friendly packaging 
Ingredients 
Each capsule contains:
| Ingredient | Amount per Tablet |
| --- | --- |
| Krill oil | 590 mg |
| Omega-3 fatty acids | 159 mg |
| – Eicosapentaenoic acid (EPA) | 89 mg |
| – Docosahexaenoic acid (DHA) | 41 mg |
| Phospholipids | 330 mg |
| Choline | 41.3 mg |
| Astaxanthin (antioxidant) | 50 µg |
| Sorbitol | 26 mg (per capsule) |
Use | Tips
Adults 18 years and older: Take 2 capsules per day with or without food. 
Cautions | Warnings
Warnings and special precautions:
Always advise your doctor, pharmacist or healthcare practitioner if taking anti-coagulants or have a bleeding disorder before taking.
Not recommended if pregnant, breastfeeding or intend on becoming pregnant as insufficient is data available.
For more details, please see the Patient Information Leaflet.
Category D: Health supplement
This unregistered medicine has not been evaluated by the SAHPRA for its quality, safety or intended use.
Storage
Store in a cool, dry, dark place.
Medical disclaimer 
Nothing on our website should be construed as medical advice and we encourage you to obtain professional advice before taking any action on the strength of information, ideas, or opinions expressed on this website. The products are not intended to cure or prevent any condition and we recommended that you contact your personal physician or doctor prior to the consumption of any product. We make no representations or warranties regarding the efficacy and/or suitability and/or fitness for purpose of the product including in connection with any condition.