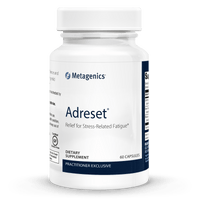 Relief for Stress-Related Fatigue  
Adreset is designed to build resilience and enhance stamina in people who are feeling weak and fatigued due to stress.
Benefits | Features
Helps address feelings of physical fatigue associated with prolonged stress
Features herbs that support an adaptive response to stress through their influence on the HPA axis
Features concentrated adaptogens, including ginseng root, Cordyceps and Rhodiola extracts, used to address multiple body systems involved in the stress response
Ideal for those who are "stressed and tired"
MY DNA CHOICES.  likes
Gluten-free
Non-GMO
Vegetarian
Packaged in recyclable material
Metagenics Adreset is ideal for adrenal fatigue. This product helps to nourish and fortify 'stressed and tired' adrenal glands. Reducing our stress and balancing our adrenal glands is essential to healthy hormone levels.
Exhausted adrenal glands can lead to a sluggish thyroid gland. In the 'hormone cascade,' cortisol is made from progesterone (progesterone is the 'ingredient' for cortisol). Therefore stress, which results in more cortisol being released from the adrenal glands, can deplete our bodies of progesterone. 
Serving info
60 Capsules
Serving Size: 2 capsules†
Servings Per Container: 30
Amount per 2 capsules:
| Ingredient | Amount |    Daily Value |
| --- | --- | --- |
| Cordyceps Mycelium (Paecilomyces hepiali Chen††) Extract [contains cordycepic acid and 0.25% (2 mg) adenosine] | 800 mg  |   |
| Asian Ginseng (Panax ginseng) Root Extract [standardized to 8% (32 mg) ginsenosides] | 400 mg  |   |
| Rhodiola (Rhodiola rosea L.) Root Extract [standardized to 1% (1 mg) salidroside and 3% (3 mg) rosavin] | 100 mg  | |
†Capsules are composed of plant-derived ingredients
††An asexual derivation of Cordyceps sinensis reported by the Institute of Microbiology, the Chinese Academy Sciences, Beijing, PRC
Other Ingredients
Capsule (hydroxypropylmethylcellulose), microcrystalline cellulose, silica, and magnesium stearate (vegetable)
Directions
Take two capsules one to three times daily or as directed by your healthcare practitioner.
Cautions | Warnings | Interactions
Consult your healthcare practitioner before use. Do not exceed recommended dosages unless on the advice of a healthcare provider. If you are on medication, taking nutritional supplements, suffering from any medical condition, pregnant, or breastfeeding, it is advisable to seek medical advice before starting any new food, supplement or remedy. Do not use this product if you are allergic to any of the ingredients. Keep out of the reach of children. 
Storage
Store tightly closed in a cool, dry, dark place.
Medical disclaimer
Nothing on our website should be construed as medical advice and we encourage you to obtain professional advice before taking any action on the strength of information, ideas, or opinions expressed on this website. The products are not intended to cure or prevent any condition and we recommended that you contact your personal physician or doctor prior to the consumption of any product. We make no representations or warranties regarding the efficacy and/or suitability and/or fitness for purpose of the product including in connection with any condition.
FAQs
Q.
How does Adreset® compare to other products or approaches?
A. This product contains only natural ingredients for a safer approach. It provides botanicals with time-tested traditional use that suggest value in modern clinical experience for strategic stress response support. Herbal supplements often come with added quality concerns, but Metagenics takes added measures on all herbal products for quality assurance. This formula is also suitable for vegetarian use.*
Q.
How does Adreset® work?
A. It provides standardised herbal extracts to support an adaptive response to common environmental stressors, and support multiple body systems during times of stress. This formula is also designed to build resilience and enhance

stamina

in those with stress-related fatigue.*
Q.
How long is Adreset® typically recommended?
A. This formula was designed for strategic, short-term support for energy during times of stress. Individual results and recommendations may vary based on your individual needs. For best results, follow your healthcare professional's guidelines.*
Q.
Who would benefit from Adreset®?
A. Health care professionals typically recommend this product for those who are "stressed and tired" - feeling weak and fatigued due to stress.*
Q.
Why is Adreset® safe?
A. It contains a blend of natural ingredients with an excellent safety profile. Plus, Metagenics' manufacturing facility has 3 certifications for good manufacturing practices to ensure the highest quality. For a higher degree of reliability and predicted safety, Metagenics herbal formulas are evaluated by our MetaBotanica® Method to assure quality and the presence of active factors for optimal effectiveness.*