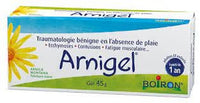 ARNIGEL is a quick-absorbing gel and can be used for local supportive treatment of muscle pain, stiffness, and swelling due to injuries and bruises. ARNIGEL contains the active ingredient, Arnica Montana, which is produced from the fresh, whole, blossoming herb. Using the fresh herb in the production process helps retain most of the constituents and active substances contained in Arnica.
MY DNA CHOICES. likes
100% Natural Ingredients

Easy to apply, absorbed rapidly & does not stain

No oily residue on the skin

Paraben-free

Colourant-free

Fragrance-free

Free from additional preservatives
Ingredients
Arnica Montana MT 7.0g, Excipients per 100g: carbomer 10%, sodium hydroxide solution, ethyl alcohol (96% v/v) 20%, purified water.
Warnings | Cautions
Not for use by children under one year of age. For external use only. Do not apply to open wounds. Ask your practitioner for advice during pregnancy. Do not use on the breasts while breastfeeding. Contact our practitioner or pharmacists if you are using or recently used or might use any other medicines.
Hypersensitivity to the active substance Arnica or to any of the excipients included in this formulation.
Use | Tips
Apply a thin layer of ARNIGEL as soon as possible onto the painful area, rubbing gently until absorbed. Repeat the application once to twice daily.
Storage
Store in a cool, dark, dry place.
Medical disclaimer
Nothing on our website should be construed as medical advice and we encourage you to obtain professional advice before taking any action on the strength of information, ideas, or opinions expressed on this website. The products are not intended to cure or prevent any condition and we recommended that you contact your personal physician or doctor prior to the consumption of any product. We make no representations or warranties regarding the efficacy and/or suitability and/or fitness for purpose of the product including in connection with any condition.