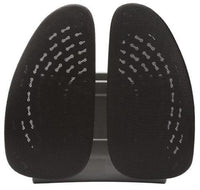 Includes shipping costs
Having poor posture when seated or sitting for long periods of time can lead to muscle aches, nerve pains and tension in the back and shoulders.
Benefits | Features
The Soho Back Support is designed to encourage an ergonomic spinal posture and provide comfort
It is lightweight, portable and provides dynamic support for the spine and surrounding joints
It has been specifically designed to prevent back problems and relieve back pain
The unique design allows the 2 flexible plates to conform to the shape of your spine and encourage movement whilst in the seated position
The Soho back contours seamlessly to the spine. It ensures no pressure is placed on the vertebrae
MY DNA CHOICES. likes
Double wing formation mounted onto an ABS plastic frame
Accommodate different spinal shapes and sizes
Ventilation holes and washable breathable knitted polyester covers
Fastens to a seat with an adjustable strap
A vertical slide adjustment mechanism is secured with a screw
Suitable for a variety of seating including office and vehicle seating
Shipping
This item is drop shipped and includes shipping.