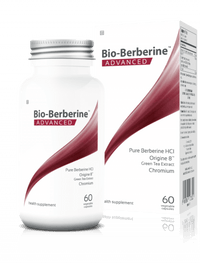 Berberine is an alkaloid present in a number of plants, including barberry, tree turmeric, Oregon grape, and goldenseal. Its history dates back 3 000 years when it used in traditional Chinese and Indian Ayurvedic medicine. Berberine has fast become one of the most researched plant extracts and remains in the scientific spotlight supported by 4500 published studies. 
Whilst Berberine has a series of benefits, this important plant extract demonstrates important benefits to conditions related to metabolic syndrome.  This is because Berberine is one of the few compounds known to activate AMPK which is an enzyme inside your body's cells. It's sometimes called a "metabolic master switch" because it plays an important role in regulating metabolism. The unique way in which Berberine acts on the body makes it a useful nature-based option for supporting blood sugar balance.
Modern research shows that Berberine supports healthy blood sugar, blood pressure, and blood lipid levels as well as overall general health. An additional benefit is that Berberine may support healthy weight management as part of a balanced diet and healthy lifestyle plan
Studies indicate that Berberine works via multiple mechanisms, including decreasing insulin resistance, making the insulin hormone that lowers your blood sugar work more effectively. In addition, Berberine encourages decreased sugar production in your liver and helps your body break down sugars in your cells.
In every capsule of Bio-Berberine™ Complex, the benefits of 500mg berberine are further enhanced by 125mg of Origine 8® – a highly bioavailable liposome infused and polyphenol-rich green tea extract – and 25ug chromium, an essential trace mineral that can improve insulin sensitivity and enhance protein, carbohydrate, and lipid metabolism.
MY DNA CHOICES. likes
Supports healthy blood sugar balance
Promotes metabolic health
Suitable for Vegetarians
Contains no sugar
No Gluten or Preservatives
GMO-Free
Nutrigenomics
Ideal for those with an insulin sensitivity genotype. If you carry medium to high impact genetic variations in the following genes, you may benefit from this supplement:
Ingredients
Recommended use
Take 1 capsule 2-3 times a day with meals. 
Storage
Store in a cool, dry, dark place.
Medical disclaimer
Nothing on our website should be construed as medical advice and we encourage you to obtain professional advice before taking any action on the strength of information, ideas, or opinions expressed on this website. The products are not intended to cure or prevent any condition and we recommended that you contact your personal physician or doctor prior to the consumption of any product. We make no representations or warranties regarding the efficacy and/or suitability and/or fitness for purpose of the product including in connection with any condition.