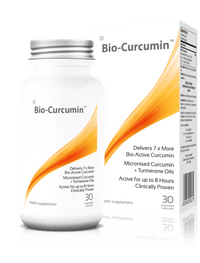 Anti-inflammatory | Antioxidant | Cardiovascular | Detox
The highly bioavailable curcumin is made from a strategic blend of curcumin (the powerful phytochemical active in turmeric) and turmeric oils to aid absorption and offer a synergistic effect.
It can help reduce inflammation, aid detox and reduce oxidative stress.  
Curcumin is known to be hard to absorb. BIO-CURCUMIN® is clinically proven to be one of the most bio-active curcumin extracts in the world. It is a market leader with scientifically proven benefits.
It contains a unique blend of the most active and potent compounds of turmeric, notably: curcuminoids and ar-turmerone.
Bio-Curcumin® exclusively uses only actives from turmeric - there are no artificial additives commonly used to increase bioavailability in turmeric supplements. Bio-Curcumin is 100% nature-based. This gives the product its unrivalled level of oral bioavailability.
More info
Curcumin is a polyphenolic compound derived from the dietary spice turmeric. Turmeric (Curcuma Longa) is a bright yellow ancient spice native to Asian countries and it has been used as a traditional remedy dating back to 600 BC.
Curcumin is one of today's most exciting dietary food supplements, impressing scientists around the world with its remarkable multiple clinical applications, health benefits and as a disease-fighting agent.
Turmeric Curcumin is known as the 'Golden Spice of Life'. One of the healthiest and most important dietary supplement on the planet, it is known to improve your health and positive well-being.
It's well known for natural anti-inflammatory properties as well as its role in increasing circulation, and optimal joint health and mobility. 
It's also rich in antioxidants, lowers risk of heart disease, helps arthritis, and much more.
Because of increased circulation, it's also known to help your skin glow! 
Many curcumin products claim to have improved bioavailability but the results are often flawed. They tend to measure total curcumin absorption which includes metabolites and inactive ingredients. They also contain artificial actives and processes in an attempt to increase bio-availability.
In recent tests, scientists have confirmed that only 'free curcumin' is active within the body for maximum efficacy and health benefits.
You can trust Bio-Curcumin® to be the best and most bio-available curcumin extract.
Benefits | Features
This exceptional product, with 100% natural turmeric extract, has been produced using the combination of modern and traditional knowledge and offers an exceptional range of benefits, including:
Delivers 700% ore free curcumin than standard extracts
Has enhanced oral bioavailability and retention of curcumin in blood, even after 8 hours
BCM 95®combines micronized curcumin with ar-turmerone for clinically validated greater potency and effect
Efficacy scientifically documented by pre-clinical and human clinical trials with more than 33 clinical studies in national and international journals, plus 13 international patents
100% natural with no artificial additives or fillers
Uses
Anti-inflammatory

Used in the liver to detox toxins and estrogen

Reduces oxidative stress

Cardiovascular health

Joint health

Immunity
Ageing brain (check out Dr Mark Hymans's latest work called 'Broken Brain')

Mood and concentration
MY DNA CHOICES. likes
No additives, fillers, known allergens, preservatives, flavourants, colourants
Dairy-free
Gluten-free
GMO-free
Soya-free
Sugar-free
Vegan
Vegetarian
Sustainable production and harvesting
Powered by certified green solar energy
Rainwater harvesting
Effective tree planting program
Effluent turmeric extraction
Ingredients
30 Vegicaps
Serving Size: 1 Capsule
Servings per container: 30 
Amount per Serving:
| | |
| --- | --- |
| Ingredient | Amount |
| BCM95(R) Bio-CurcuminTM  | 400mg |
|   |   |
| Curcumina longa 25:1 extract (root) (std to 95% total curcuminoids complex with essential oils of tumeric rhizome by HPLC  | 380mg |
Inactive ingredients
Vegetable Cellulose (Capsule), vegetable stearate, silica
Directions
Adults and Children over 12 years
Take one to two capsules daily with food, or as recommended by a healthcare practitioner.
Cautions | Warnings | Interactions
Consult your healthcare practitioner before use. Do not exceed recommended dosages unless on the advice of your healthcare provider. If you are on medication, taking nutritional supplements, suffering from any medical condition, pregnant, or breastfeeding, it is advisable to seek medical advice before starting any new food, supplement or remedy. Do not use this product if you are allergic to any of the ingredients. Keep out of the reach of children. 
Side effects
Side effects may include gastrointestinal discomfort, nausea, vomiting, diarrhoea, dyspepsia, headache and fatigue.
Interactions
Warfarin & Anticoagulants
Concurrent use of curcumin with anticoagulants may increase the risk of bleeding due to decreased platelet aggregation, only use under medical supervision. Some of these drugs include aspirin, clopidogrel, dalteparin, enoxaparin, heparin, ticlopidine, warfarin, and others. 
Antidiabetic medications
Concurrent use of curcumin with antidiabetic medications can reduce blood sugar levels.
Special precautions
Bile Duct Obstruction or Gallstones
Curcumin can cause gallbladder contractions. Use with caution if you have gallstones and gallbladder disease. 
Surgery
Curcumin has antiplatelet effects and should be discontinued at least 2-weeks before any elective surgery.
Pregnancy | Breastfeeding
Safety in pregnancy and lactation has not been established. 
Storage
Store tightly closed in a cool, dry, dark place.
Medical disclaimer
Nothing on our website should be construed as medical advice and we encourage you to obtain professional advice before taking any action on the strength of information, ideas, or opinions expressed on this website. The products are not intended to cure or prevent any condition and we recommended that you contact your personal physician or doctor prior to the consumption of any product. We make no representations or warranties regarding the efficacy and/or suitability and/or fitness for purpose of the product including in connection with any condition.