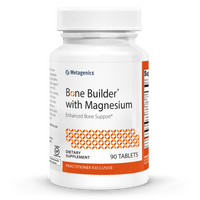 MCHC, Magnesium & Vitamin D
Bone Builder® with Magnesium is the same formula as original Cal Apatite® but with the addition of 300 mg of magnesium per serving.
Benefits | Features
Features 300 mg per serving of magnesium - an important mineral found primarily in bone tissue and essential for musculoskeletal health
Provides a 2:1 calcium to magnesium ratio
MY DNA CHOICES. likes
Gluten-free
GMO-free
Vegetarian
Packaged in glass
Packaged in recyclable material

This formulation contains Cal Apatite Bone Builder® + vitamin D + Magnesium

It is optimally balanced for maximum absorption of these key bone nutrients. Magnesium is used to break down stress hormones (adrenalin and cortisol) as well as estrogen

Magnesium also helps us relax. If a 'red blood cell magnesium' test shows your magnesium is low, or you are/have been under a lot of stress, this calcium formulation might be for you
Ingredients
90 Capsules
Serving Size: 3 Tablets
Servings Per Container: 30
Amount per 3 tablets:
| Ingredient | Amount | Daily Value |
| --- | --- | --- |
| Vitamin D (as cholecalciferol) | 600 IU  | 150%  |
| Calcium (as MCHC and dicalcium phosphate) | 600 mg  | 60%  |
| Phosphorus (as MCHC and dicalcium phosphate) | 378 mg  | 38%  |
| Magnesium (as magnesium citrate, magnesium aspartate, and magnesium bis-glycinate) | 300 mg  | 75%  |
| Microcrystalline Hydroxyapatite Concentrate (MCHC) | 1500 mg  | *  |
Other Ingredients
Microcrystalline cellulose, croscarmellose sodium, sodium starch glycolate, cellulose, stearic acid (vegetable), silica, and coating (microcrystalline cellulose, polyethylene glycol, and carrageenan)
Directions
Take three tablets once daily or as directed by your healthcare practitioner.
Cautions | Warnings | Interactions
Consult your healthcare practitioner before use. Do not exceed recommended dosages unless on the advice of a healthcare provider. If you are on medication, taking nutritional supplements, suffering from any medical condition, pregnant, or breastfeeding, it is advisable to seek medical advice before starting any new food, supplement or remedy. Do not use this product if you are allergic to any of the ingredients. Keep out of the reach of children. 
Storage
Store tightly closed in a cool, dry, dark place.
Medical disclaimer
Nothing on our website should be construed as medical advice and we encourage you to obtain professional advice before taking any action on the strength of information, ideas, or opinions expressed on this website. The products are not intended to cure or prevent any condition and we recommended that you contact your personal physician or doctor prior to the consumption of any product. We make no representations or warranties regarding the efficacy and/or suitability and/or fitness for purpose of the product including in connection with any condition.