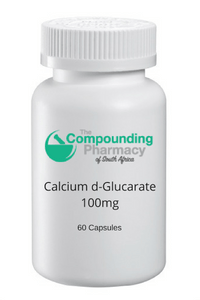 Calcium d-glucarate helps rid the body of toxins and hormones in Phase 3 of detoxification which continues in the gut. It ensures that estrogen, which has been broken down by the liver and excreted into the intestines, remains safely bound as it leaves the body in faeces.

Estrogen, which is excreted into the intestines from the liver, is safely bound and ready to be safely carried out the body in the faeces. But a certain 'bad' or harmful gut bacteria (Escherichia coli, Bacteroides species, and Clostridium perfringens) release an enzyme called beta-glucuronidase. This enzyme splits bound estrogen and releases it to be reabsorbed through the intestinal wall. Once back in the bloodstream, it recirculates and can contribute to estrogen dominance.
Benefits | Features
Helps populations of good gut bacteria keep these harmful bacteria out-numbered
MY DNA CHOICES. likes
Gluten-free
Non-GMO
Vegetarian
Packaged in recyclable material
Pair with these tests
If you would like to determine whether you have poor beta-glucuronidase metabolism, we recommend that you order one of these tests online:
Ingredients
Cautions | Warnings | Interactions
Consult your healthcare practitioner before use. Do not exceed recommended dosages unless on the advice of a healthcare provider. If you are on medication, taking nutritional supplements, suffering from any medical condition, pregnant, or breastfeeding, it is advisable to seek medical advice before starting any new food, supplement or remedy. Do not use this product if you are allergic to any of the ingredients. Keep out of the reach of children. 
Storage                                                            
Store tightly closed in a cool, dry, dark place.
Medical disclaimer
Nothing on our website should be construed as medical advice and we encourage you to obtain professional advice before taking any action on the strength of information, ideas, or opinions expressed on this website. The products are not intended to cure or prevent any condition and we recommended that you contact your personal physician or doctor prior to the consumption of any product. We make no representations or warranties regarding the efficacy and/or suitability and/or fitness for purpose of the product including in connection with any condition.