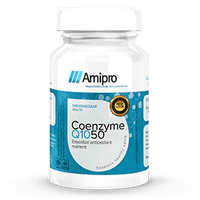 Master Antioxidant | Energy Production | Cardiovascular
Support
Coenzyme Q10 (CoQ10) offers support for cardiovascular health, energy production, and antioxidant protection. Levels decline drastically as we get older and with the use of certain medications such as statins. Coenzyme Q10 can offer support if you have cardiovascular disease, diabetes, hypertension, ageing, immune concerns, or are taking statins.
Benefits | Features
Supports vascular, heart, breast, brain, gum, immune system health and function by providing antioxidant protection and energy production
Support for cardiovascular disease, diabetes, hypertension, obesity and periodontal disease
Cardiovascular disease, angina pectoris, congestive heart failure, cardiomyopathy, hyperthyroidism, heart failure, hypertension, and those taking statin medication all respond well to

CoQ10 supplementation

It is 

essential for mitochondrial function and energy production
Supports muscle performance
Offers support to normalise blood sugar levels - useful in diabetics
Slows the ageing process
Stimulates the immune system
Best suited for
Those who require protection from cardiovascular conditions
Those taking statins
Those requiring more energy at a cellular level
Those who require antioxidant and anti-ageing protection
MY DNA CHOICES. likes
Dairy-free
Gluten-free
GMO-free
Vegetarian
Packaged in recyclable material 
Ingredients
60 Vegicaps
Servings per container: 60
Serving Size: 1 Vegicap
Amount per 1 vegicap:
| | |
| --- | --- |
| Ingredients | Amount |
| Coenzyme Q10     | 50 mg |
Other Ingredients
Maize starch, silica, capsule (hydroxypropyl methylcellulose)
Directions
Take 1-2 vegicaps per day with food or as directed by your healthcare practitioner.
Cautions | Warnings | Interactions
Consult your healthcare practitioner before use. Do not exceed recommended dosages unless on the advice of a health care provider. If you are on medication, taking nutritional supplements, suffering from any medical condition, pregnant, or breastfeeding, it is advisable to seek medical advice before starting any new food, supplement or remedy. Do not use this product if you are allergic to any of the ingredients. Keep out of the reach of children. 
Storage
Store tightly closed in a cool, dry, dark place.
Medical disclaimer
Nothing on our website should be construed as medical advice and we encourage you to obtain professional advice before taking any action on the strength of information, ideas, or opinions expressed on this website. The products are not intended to cure or prevent any condition and we recommended that you contact your personal physician or doctor prior to the consumption of any product. We make no representations or warranties regarding the efficacy and/or suitability and/or fitness for purpose of the product including in connection with any condition.