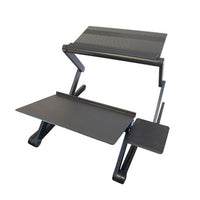 Workstation Standing Combo
The Combo Standing Workstation is a versatile and hugely adjustable devise that will transform the way you work on your laptop in different environments.
Benefits
Positions your laptop to optimise the monitor height and typing posture
Made from aluminium, it is light-weight, durable and naturally dissipates heat
The stand adjusts up to 60cm tall to hold laptops at eye level whilst standing
hen used with the keyboard tray, it can act as a versatile and affordable standing workstation for laptop users
Want the health benefits of standing?
Turn any desk or table into a simple laptop standing desk by using the WorkEz laptop stand or by combining it with the WorkEz keyboard tray
Burn calories, have more energy and be more productive
Change your position during the day to improve your comfort while working and reducing strain often caused by sustained positions.
Do you like to watch movies in bed?
The executive laptop stand raises your laptop or tablet off your lap, keeping it cool
With the wide range of adjustments, you don't have to crane your neck to see the screen clearly
The 3-Section legs form a stable base
The panel rotates to put the screen at the perfect angle for better viewing.
Do you use your laptop on the couch or chair?
Although it is not recommended to use your laptop on the couch, the Executive laptop stand will assist you with improving your posture and comfort while doing so.
Raise your laptop on your lap!
Create space to stretch your legs, move around and get comfortable
The 3-section legs are stable on the couch
The aluminium panel keeps your laptop cool
MY DNA CHOICES.  likes
We love this innovative desk stand to help us combat hours of sitting still in front of our computers.
The latest research has stressed the importance of microcirculation during the day – sitting without standing for 1 minute each hour inhibits microcirculation. 
Microcirculation is the circulation of the blood in the smallest blood vessels. This contrasts with macrocirculation, which is the circulation of blood to and from the organs.
Microcirculation is composed of terminal arterioles, capillaries, and venules that drain capillary blood. Microcirculation is the link between blood and a single cell. By this link, tissue and single cells are supplied with oxygen and nutrients. 
A better supply of blood and therefore oxygen and nutrients to a cell means that the cell functions better.
Specifications
Adjustable height range: 0-60 cm

Panel Size: 46 x 25.5cm 

Folded Size: 55,8cm by 28cm by 5cm

Width between legs: 53,3cm

Weight: 1.8kg

Maximum load capacity: 6kg

Panel naturally cools the laptop

Tilt the panel to decrease glare on your screen

Foldable, collapsible, lightweight and transportable

Fits all common laptop sizes

Material: Aluminium
WorkEz Keyboard tray
The WorkEz keyboard tray is a highly adjustable tool to ensure the correct height and angle of your keyboard and mouse. It is lightweight and folds flat, making it the perfect product to move around between different workspaces if needed.
Keyboard Tray features
45,7cm wide panel comfortably holds most keyboards

The adjustable angles enable the user to position the keyboard at a flat or downward angle for optimal keyboard positioning, ensuring typing comfort

Adjusts up to 45cm high - perfect for standing when used in combination with a monitor lift or laptop lift such as the Executive Laptop stand

Material: Aluminium
Mousepad
Easily adjustable mouse pad angles

Holds the mouse in perfect alignment with the keyboard

Mousepad

connects to the left or right side of the panel
Specs
Keyboard Tray Panel Size: 45,7cm x 28cm

Keyboard Tray Height Range: Adjustable from 0-45cm

Mouse Pad Size: 17,7cm x 17,7cm

Material: Aluminium

Weight: 1,8kg