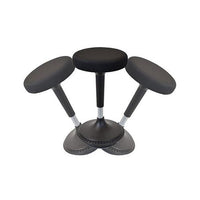 Flat Seat Sit-Stand Wobble Stool
Height-adjustable standing desk stool that makes sitting fun & active!

Burn calories, rock, and move around. Great for home & office!
If you have a sit-stand workstation, the Wobble stool is a must-have item. It is the perfect perch between sitting and standing.
The wobble stool is a fun chair that makes it easy to move around while sitting. It naturally tilts and moves under your control, helping you to stay active and productive at the office.
The Wobble sit-stand stool is height adjustable with a non-skid weighted base that makes it easy to move while seated.
It allows you to distribute your body weight between your feet and bottom while sit-standing at your desk.
Features
The rounded seat provides additional comfort and swivels 360 Degrees
33cm diameter seat
Plush fabric cushion is comfortable & cool
Unique design facilitates controlled movement
Self-stabilizing, weighted base returns to an upright position after use
Height adjusts from 58,4cm to 83,8cm with a simple push-button under the seat
Limited warranty 3 months
The maximum load capacity of 110kg
MY DNA CHOICES. likes
If you have a sit-stand workstation, the Wobble stool is a must-have item
It is the perfect perch between sitting and standing
The wobble stool is a fun chair that makes it easy to move around while sitting
It naturally tilts and moves under your control, helping you to stay active and productive at the office
The Wobble sit-stand stool is height adjustable with a non-skid weighted base that makes it easy to move while seated
It allows you to distribute your body weight between your feet and bottom while sit-standing at your desk
Great for kids