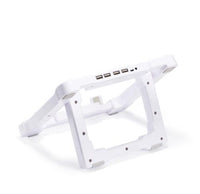 Ergo Anywhere+ Laptop Stand With USB Hub
A stylish, height adjustable, compact, lightweight and portable stand to place laptops, tablets or books in an ergonomic position.
Includes a built-in 4 port USB Hub for connecting your peripherals.
Relieve back, neck and eye strain by placing your laptop screen at the correct viewing level. Compatible with most laptops, this is a convenient and versatile option for optimising your performance and overall health while using your laptop, providing you with the ability to adjust the height and angle of your laptop within seconds.
The angle/height adjustment can be stopped at any level or angle, ensuring the perfect fit for your specific requirements. Enjoy more comfortable computing and improved ease of use with the Ergo Anywhere+ laptop stand.
Features
4 Port USB Hub
Numerous angle/height adjustments.
Lightweight and folds flat for easy portability
Open frame design ensures that your laptops stays cool during use.


Benefits of using the Ergo Anywhere+
Reduce back, neck and eye strain by placing your laptop at an optimal viewing level
Brings the screen within proper viewing range and height
Improves the user's overall posture
Compatible with most laptops
For best results, use all laptop stands with an external mouse and keyboard (sold separately).