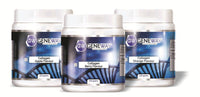 Collagen is a main component in the skin, tendons, cartilage and connective tissues in the body. Collagen gives the skin strength and elasticity and is the 'glue' that helps to keep the joints and tendons together. The genetically-programmed production of collagen slows with ageing.
What is collagen?
Collagen is the major protein in the connective tissues of the body. It holds all the tissues together and ensures the integrity, elasticity, and regeneration of skin, tendons, cartilage and bones. It is the most abundant protein, representing almost 30% of all human protein content.
Why do we need collagen?
Skin health
Reducing joint inflammation
Maintaining healthy bones
Protection from cartilage degeneration
Supporting tendons and ligaments
Supporting muscle mass and strength
Key genes that would benefit
Pair with these tests
Ingredients
Peptan®, Type 1 Hydrolyzed Collagen Peptides (www.peptan.com). Peptan® collagen is a bioactive ingredient with hydrolyzed peptides, making it easily digestible. It contains 17 essential and branched-chain amino acids (BCAA). Sucralose
Does not contain
Artificial colourants or flavourings.
Colourants
Apple: Ponceau; Orange: Sunset yellow; Carmoisine
Dosage
Take one to two scoops daily. Dissolve in 250ml water.
Medical disclaimer
Nothing on our website should be construed as medical advice and we encourage you to obtain professional advice before taking any action on the strength of information, ideas, or opinions expressed on this website. The products are not intended to cure or prevent any condition and we recommended that you contact your personal physician or doctor prior to the consumption of any product. We make no representations or warranties regarding the efficacy and/or suitability and/or fitness for purpose of the product including in connection with any condition.