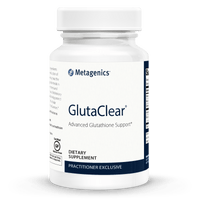 Advanced Glutathione Support
GlutaClear™ provides a blend of key ingredients designed to help boost the body's production of glutathione, a primary antioxidant throughout the entire body. Glutathione plays an important role in protecting the body against oxidative stress and detoxifying harmful compounds.
Preliminary research suggests glutathione may also help protect mitochondria, the principle source of cellular energy, from damaging pro-oxidant influences.
Pair with these genes
If you carry a medium to high impact genetic variation in one or more of these genes, then adding in glutathione could provide additional co-factor support to their encoded proteins and enzymes:
Benefits | Features
Helps protect cells throughout the body from oxidative damage that may influence cellular ageing*
Supports

hepatic detoxification

function*
MY DNA CHOICES. likes
Bioavailable formula
Wonderful for GST gene-family and GPX1 genetic variations
Gluten-free
Non-GMO
Vegetarian
Packaged in recyclable material
This is the  "mother of all antioxidants, the master detoxifier and maestro of the immune system
It is important to test the genes involved in glutathione metabolism. These are the genes involved in producing enzymes that allow the body to create and recycle glutathione in the body. They are GSTM1 and GSTP1. When the GSTM1 function is missing, we have a compromised ability to detoxify the toxins in our environment
Exercise boosts your glutathione levels and thereby helps boost our immune system, improve detoxification and enhance your bodies' own antioxidant defenses
Ingredients
60 | 120 Tablets
Serving Size: 2 Tablets
Servings Per Container: 30 | 60
Amount per 2 tablets:
| | | |
| --- | --- | --- |
| Ingredient | Amount | Daily Value |
| Vitamin C (as ascorbic acid) | 500 mg   | 833%   |
| Niacin (as niacinamide) | 750 mg   | 3750%   |
| Selenium (as Selenomethionine) | 75 mcg   | 107%   |
| N-Acetylcysteine | 750 mg   | *   |
| Broccoli (Brassica oleracea L.var. Italica) Seed Extract (providing 5 mg sulforaphane glucosinolate) | 38.5 mg   | *  |
*Daily Value not established
Other Ingredients
Microcrystalline cellulose, cellulose, stearic acid (vegetable), silica, and coating (hypromellose, medium chain triglycerides, and hydroxypropylcellulose)
Directions
Take two tablets twice daily with food or as directed by your healthcare practitioner.
Cautions | Warnings | Interactions
Consult your healthcare practitioner before use. Do not exceed recommended dosages unless on the advice of a health care provider. If you are on medication, taking nutritional supplements, suffering from any medical condition, pregnant, or breastfeeding, it is advisable to seek medical advice before starting any new food, supplement or remedy. Do not use this product if you are allergic to any of the ingredients. Keep out of the reach of children. 
Storage
Store tightly closed in a cool, dry, dark place.
Medical disclaimer
Nothing on our website should be construed as medical advice and we encourage you to obtain professional advice before taking any action on the strength of information, ideas, or opinions expressed on this website. The products are not intended to cure or prevent any condition and we recommended that you contact your personal physician or doctor prior to the consumption of any product. We make no representations or warranties regarding the efficacy and/or suitability and/or fitness for purpose of the product including in connection with any condition.