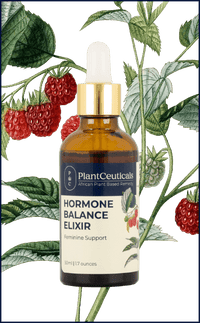 This is a particularly good tonic for hormone balancing. Whether menstruating or menopausal, this well-constituted elixir is a four-ingredient powerhouse of supportive components to ease hormonal symptoms. It is also beneficial for male users.

MY DNA CHOICES. likes
All plants used in our formulations are grown on our farm and extracted without the use of chemicals. Our growing methods are inspired by the principals of permaculture and Korean natural farming, honouring biodiversity and the beneficial elements of the natural environment to enhance the medicinal values of the plants.
The power of the plants
MUGWORT (Artemisia Vulgaris) has been used historically as support for menstrual cycles and symptom relief for menopause. It is calmative, balances irregular periods, and decreases bloating.
ASHWAGANDHA (Withania Somnifera) works as a nervine and adrenal tonic that targets the neuro-endocrine system lowers cortisol levels and balances adrenals. It's an excellent support for stress, fatigue, depression, and anxiety.
LEMON BALM (Melissa Officinalis) assists with acute menopausal symptoms, especially hot flushes. It is a beneficial, calmative, and mild antidepressant and has been known to assist with insomnia.
RASPBERRY LEAF (Rubus Idaeus) has traditionally been used to regulate hormones, help with menstrual cramps and heavy periods. It is also known to ease morning sickness, prevent miscarriage, and ease labour. It is believed to promote fertility.
Use | Tips
Target menstrual and hormonal fluctuations, emotional wellbeing, and physical symptoms by bringing balance into the body's natural cycles and functions.
Dosage
Adults: Recommend 8 to 10 drops daily, or when needed can be taken as often as necessary depending on the user's needs.
Children: 4 to 6 drops per once or twice per day. It can be taken as often as necessary depending on the user's needs.
The product can also be diluted in water if preferred.
There is no 'one size fits all' with plant-based remedies. Users are encouraged to find their own sweet spot when using natural remedies. With all remedies, it is recommended to take periodic breaks from use.
Warnings
Please note that anyone who is pregnant, nursing, chronically ill, elderly or under the age of 18 (eighteen) must discuss the use of these products with a physician prior to consumption and/or use.
Ingredients
Mugwort, Ashwagandha, Lemon Balm, Raspberry Leaf, Raw Honey, Vegetable Glycerine, and alcohol.
Storage
Store in a cool, dry, dark place.
Disclaimer
The Provider shall not be held liable for any medical claims brought by the User and all content on the Website, including but not limited to manufacturers' testimonials and/or product recommendations shall in no way be binding on the Provider. All statements made regarding the listed products have not been evaluated by the Medicines Control Council of South Africa or the Food and Drug Administration of the United States of America. These Products are not intended to diagnose, treat, cure, or prevent any disease and are not advertised, marketed, listed, and/or sold under said intention. All information presented on the Website should not be construed as promoting a substitute for, or alternative to, information from health care practitioners. The Provider takes no responsibility for the improper use of these Products, side effects, or incorrect dosages. The User recommends consulting with a qualified medical doctor or veterinarian when preparing a treatment plan for any and all diseases or ailments.