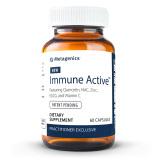 Featuring Quercetin, NAC, Zinc, EGCG, and Vitamin C

Immune Active™ provides high potency vitamin C and zinc and features quercetin, NAC, and EGCG to help support a healthy immune response and promote antioxidant processes.
Pair with these tests
If you would like to know more about your unique immune response, we recommend ordering one of the following tests online:
MY DNA CHOICES. likes
This product is non-GMO and gluten-free.
Use | Directions
Take two (2) capsules daily or as directed by your healthcare practitioner.
Ingredients
30mg Vitamin C (as ascorbic acid), 200 mg Zinc (as zinc glycinate), 30 mg N-Acetylcysteine, 600 mg* Decaffeinated†† Green Tea (Camellia sinensis) Leaf Extract [standardized to 60% (225 mg) catechins and 40% (150 mg) epigallocatechin gallate (EGCG)]375 mg,  Quercetin 250 mg*  

Other ingredients
Capsule (hydroxypropylmethylcellulose), magnesium stearate (vegetable), and silica.
Caution | Warnings
If pregnant, nursing, or taking medications, consult your healthcare practitioner before use. Keep out of the reach of children.
Tamper evident
Do not use if safety seal is missing or broken.
Storage
Keep tightly closed in a cool, dry place.
Medical disclaimer
Nothing on our website should be construed as medical advice and we encourage you to obtain professional advice before taking any action on the strength of information, ideas, or opinions expressed on this website. The products are not intended to cure or prevent any condition and we recommended that you contact your personal physician or doctor prior to the consumption of any product. We make no representations or warranties regarding the efficacy and/or suitability and/or fitness for purpose of the product including in connection with any condition.