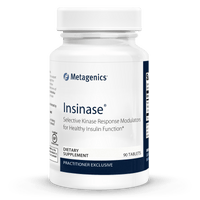 Selective Kinase Response Modulators for Healthy Insulin Function
Insinase® features selective kinase response modulators (SKRMs) designed to support healthy cellular insulin function.*
Benefits 
Proprietary formula featuring SKRMs - RIAA and acacia - which have been shown to modulate insulin function†*
SKRMs modulate kinase signalling in adipocytes, which are fat-storing cells involved in glucose utilisation and insulin signaling†*
In vitro and in vivo testing demonstrated inhibition of IL-6 cytokines - which influence insulin function†*
†Based on in vitro and in vivo testing conducted at Functional Medicine Research Center, the clinical research arm of Metagenics.
MY DNA CHOICES. likes
Gluten-free
Non-GMO
Vegetarian
Packaged in recyclable material
Ingredients
Serving Size: 3 Tablets 
Servings Per Container: 30
| | | |
| --- | --- | --- |
| Ingredient | Amount | Daily Value |
| A proprietary blend of: | 540 mg  | *  |
| Reduced Iso-Alpha Acids and |   |   |
| Indian Gum Arabic Tree (Acacia nilotica) Bark and |   |   |
| Heartwood Extract |   |   |
*Daily Value not established
Other Ingredients
Microcrystalline cellulose, cellulose, stearic acid (vegetable), croscarmellose sodium, sodium starch glycolate, silica, and coating (hypromellose, medium chain triglycerides, hydroxypropylcellulose, sodium copper chlorophyllin)
Directions
Take three tablets daily or as directed by your healthcare practitioner.
Cautions | Warnings | Interactions
Consult your healthcare practitioner before use. Do not exceed recommended dosages unless on the advice of a health care provider. If you are on medication, taking nutritional supplements, suffering from any medical condition, pregnant, or breastfeeding, it is advisable to seek medical advice before starting any new food, supplement, or remedy. Do not use this product if you are allergic to any of the ingredients. Keep out of the reach of children. Caution: Do not use if pregnant, nursing, or taking anticoagulants. If taking other medication, consult your healthcare practitioner before use. 
Medical disclaimer
Nothing on our website should be construed as medical advice and we encourage you to obtain professional advice before taking any action on the strength of information, ideas, or opinions expressed on this website. The products are not intended to cure or prevent any condition and we recommended that you contact your personal physician or doctor prior to the consumption of any product. We make no representations or warranties regarding the efficacy and/or suitability and/or fitness for purpose of the product including in connection with any condition.
Storage
Store tightly closed in a cool, dry, dark place.
FAQs
Q.
How does Insinase® compare to other products or approaches?
A.
As a nutraceutical, this product is formulated to complement dietary measures to promote healthy insulin function. It provides a novel blend of natural selective kinase response modulators (SKRMs) that offer scientifically evaluated cellular support for healthy insulin function. This product contains only natural ingredients and provides a safer course for long-term healthy insulin function support. It has been clinically reviewed at the FMRC.* 
Q.
How does Insinase® work?
A.
It provides a unique combination of ingredients to support healthy insulin function. Cellular studies showed that the RIAA and acacia in Insinase inhibit IL-6 cytokines that can influence insulin function. These ingredients also act as selective kinase response modulators (SKRMs) in fat-storing cells involved in glucose and insulin activities. Balanced kinase (specialised enzyme) signalling helps to maintain healthy blood insulin function, and SKRMs can enhance "healthy" signals from a targeted dietary plan, such as a low-glycemic-load diet.* 
Q.
How long is Insinase® typically recommended?
A.
This formula was designed for insulin function support on a daily basis where appropriate. Your health care professional may recommend regular follow-up visits to re-evaluate markers of blood sugar health. Individual results may vary. For best results, follow your health care professional's guidelines.*
Q.
Who would benefit from Insinase®?
A.
Healthcare professionals recommend this product to promote healthy blood sugar levels already in the normal range, specifically support for healthy insulin function. It provides a complement to dietary signals from a healthy eating plan for added support.*
Q.
Why is Insinase® safe?
A.
It contains a blend of natural ingredients with an excellent safety profile. Plus, Metagenics' manufacturing facility has 3 certifications for good manufacturing practices to ensure the highest quality. Key active ingredients in this formula were developed through the ExpresSyn Process® that sets a new standard in clinical certainty for natural products via demonstrated efficacy, bioavailability, and a high level of predicted safety. Insinase has been clinically reviewed at the FMRC. (This product is not recommended for those taking anticoagulant medications. MetaGlycemX may be an excellent alternative).