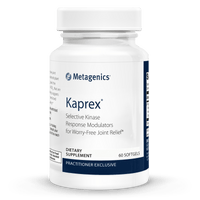 Selective Kinase Response Modulators for Worry-Free Joint Relief
Kaprex is designed to provide effective joint relief. This proprietary combination of selected plant components influences kinase signalling and the formation of certain substances that are associated with minor pain.
Benefits | Features
Provides effective joint relief that is worry-free
Modulates prostaglandin E2 (PGE2) production at specific target cells
Features selective kinase response modulators (SKRMs) in the form of tetrahydro iso-alpha acids (THIAA) to modulate kinase activity in favour of good health

The ingredient synergy of Tetrase™, oleanolic acid, and rosemary provide efficacy at a low dose
MY DNA CHOICES. likes
Gluten-free
Non-GMO
Vegetarian
Packaged in glass
Packaged in recyclable material
Ingredients 
60 Softgels
Serving Size: 60
Servings per container:  60
Amount per 1 softgel:
| | | |
| --- | --- | --- |
| Ingredient | Amount |    Daily Value |
| A proprietary blend of:  | 350 mg   | *   |
| Tetrase™ [Tetrahydro-iso-alpha acids complex†(from hops, Humulus lupulus L.)] |   |   |
| Rosemary (Rosmarinus officinalis) Leaf Extract,  |    |    |
| Oleanolic Acid (from olive leaf extract, Olea europaea)  |    |   |
This product is manufactured in a facility that produces products containing soy, dairy, egg, nuts, fish and crustacean shellfish
†U.S. Patent Nos. 7,205,151; 7,195,785; 7,270,835; 7,332,185
Other Ingredients
Olive oil, gelatin, glycerin, yellow beeswax, water, sodium copper chlorophyllin (color)
Directions
Take one softgel two times daily with food or as directed by your healthcare practitioner.
Cautions | Warnings | Interactions
Consult your healthcare practitioner before use. Do not exceed recommended dosages unless on the advice of a health care provider. If you are on medication, taking nutritional supplements, suffering from any medical condition, pregnant, or breastfeeding, it is advisable to seek medical advice before starting any new food, supplement or remedy. Do not use this product if you are allergic to any of the ingredients. Keep out of the reach of children. 
Caution
Do not use if pregnant or nursing, or taking anticoagulants. If taking other medication, consult your healthcare practitioner before use. Keep out of the reach of children.
Storage
Store tightly closed in a cool, dry, dark place.
Medical disclaimer
Nothing on our website should be construed as medical advice and we encourage you to obtain professional advice before taking any action on the strength of information, ideas, or opinions expressed on this website. The products are not intended to cure or prevent any condition and we recommended that you contact your personal physician or doctor prior to the consumption of any product. We make no representations or warranties regarding the efficacy and/or suitability and/or fitness for purpose of the product including in connection with any condition.