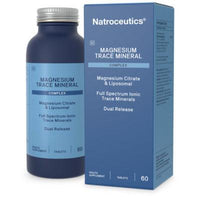 As an essential mineral for optimal health, magnesium is involved in most major metabolic processes, playing a crucial role in over 300 enzyme reactions operating throughout the day. Magnesium deficiency – caused by inadequate amounts of nutritional content in our diets, could lead to a wide range of health conditions.
With a greater need for increased minerals, Natroceutics Magnesium Complex is developed to deliver optimal levels of magnesium and overcome the limitations of conventional supplementation through a complex which includes liposomal magnesium, magnesium citrate, and the full spectrum of complete trace minerals.
MY DNA CHOICES. likes
Magnesium Citrate + Liposomal Magnesium + Ionic Trace Mineral Complex. 

Increased bioavailability and absorption.

Sustained-release.

Full complex of Magnesium + 72 trace minerals.

Convenient to use in a single daily dose.

Quality assured through GMP (Good Manufacturing Practice) and batch testing.

Clean and free from agrochemicals, artificial additives and heavy metals.

Scientifically formulated and developed. 

Vegan-friendly – 100% Plant-Based.

Fully recyclable and supporting environmental regeneration.
Pair with these tests
If you would like to know whether you need to "add-in" magnesium as a nutrient co-factors for genetic expression or for deficiencies in your biochemistry, we recommend that you start with one of these tests:
What impact will a magnesium deficiency have?
Blood sugar control and insulin sensitivity, affecting weight, body composition, and food cravings.

The production of glutathione, the body's master antioxidant, is directly linked to the immune system and ageing. Meaning you are more likely to fall ill and age prematurely.

Blood pressure regulation and cardiovascular health.
Use | Dosage
1 daily or as prescribed by your healthcare practitioner. 
Storage
Store in a cool, dry, dark place.
Medical disclaimer
Nothing on our website should be construed as medical advice and we encourage you to obtain professional advice before taking any action on the strength of information, ideas, or opinions expressed on this website. The products are not intended to cure or prevent any condition and we recommended that you contact your personal physician or doctor prior to the consumption of any product. We make no representations or warranties regarding the efficacy and/or suitability and/or fitness for purpose of the product including in connection with any condition.