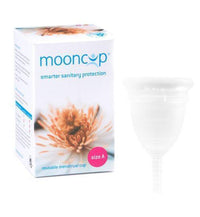 Menstrual Cup | Mooncup A
Mooncup® is the original, soft, medical-grade silicone menstrual cup designed by women as a convenient, safe and eco-friendly alternative to tampons and pads.
Tried and trusted since 2002 by users around the world, the Mooncup menstrual cup offers an end to the waste, discomfort, and expense of disposable sanitary protection.
Benefits
The healthier and convenient alternative to tampons and pads which save you money too
The average women will use more than 11,000 disposable sanitary products in a lifetime
Every year, over 45 billion feminine hygiene products are disposed of globally
Ocean Conservancy volunteers collected 27,938 used tampons and applicators on our world's beaches on a single day (International Coastal Cleanup, 2013)
MY DNA CHOICES. likes
Reusable
Lasts up to 8 hours
Holds 3 times as much liquid as a tampon
Easy to insert and remove
Discreet
Long-lasting protection
Made from soft, medical-grade silicone
Latex-free
BPA-free
Bleach-free
Ideal for those who have sensitive skin or allergies
Won't cause dryness or leave fibers behind
Mooncup Ltd is ISO 13485 certified and is registered with the FDA
Suitable for
Recommended for those who are 30 and over, and all who have given birth vaginally regardless of age
Use | Tips
https://youtu.be/TROd8gCq2so
Storage
Store in a cool, dry and dark place.