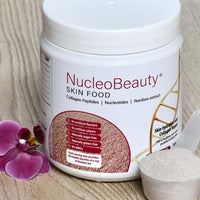 NucleoBeauty | Skin Food - Day
What does NucleoBeauty®️ Skin Food Contain?
Peptan®️ Collagen – Peptan is the world's leading brand of collagen peptides. It is a natural, high-purity, bioactive ingredient with a protein content of over 97% (on a dry weight basis). It is quite widely known that Collagen has numerous beneficial effects when taken internally, especially for Skin, joint, and cartilage health as well as vitality.
NutriTide®️ Nucleotides – a scientifically balanced and unique form of Nucleotides. The key ingredient in NucleoBeauty is a nutrient called Nucleotides, which are responsible for the efficient replication of every cell in our bodies as they are the building blocks of our genetic material (DNA/RNA).
Rooibos extract – an excellent quality Rooibos extract. We use the Rooibos extract as part of our product for its beneficial effects on Beauty from the Inside. It has a high antioxidant & free radical scavenging potential, which supports counteracting free radical damage from the environment and some foods that we eat.
MY DNA CHOICES. likes
No artificial colours or flavourants
Naturally sugar-free
Gluten-free
No GMOs
Pair with these tests
If you would like to know how to personalise your nutrients for skin health, we recommend that you order the following test online:
Use | Tips
Day-time:
Daily supplementation with NucleoBeauty® SKIN FOOD improves skin hydration and barrier function, contributing to a healthy skin and youthful appearance.
Daily supplementation of 10g of NucleoBeauty® SKIN FOOD delivers the optimum dose of Nucleotides and Collagen peptides for DNA and skin repair.    Each 10g serving also provides the antioxidant health benefits found in a cup of rooibos tea.
NucleoBeauty® SKIN FOOD can be used on its own or together with NucleoBeauty® CAPSULES if your skin needs extra repair and healing
NucleoBeauty® SKIN FOOD'S convenient powder format makes it an easy addition to water, juice, morning smoothies and yoghurt.
Medical disclaimer
Nothing on our website should be construed as medical advice and we encourage you to obtain professional advice before taking any action on the strength of information, ideas, or opinions expressed on this website. The products are not intended to cure or prevent any condition and we recommended that you contact your personal physician or doctor prior to the consumption of any product. We make no representations or warranties regarding the efficacy and/or suitability and/or fitness for purpose of the product including in connection with any condition.