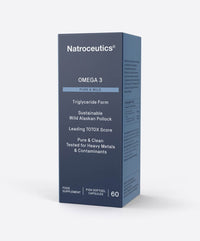 Omega 3 Pure & Wild is produced from sustainable, wild-caught Alaskan pollock. Delivered in its natural and superior triglyceride form, each batch is tested to have a market-leading TOTOX and absolute purity.
Benefits
Cognitive Health and Performance
Cardiovascular Health + Protection
Skin health
MY DNA CHOICES. likes
Natroceutics delivers an Omega 3 for those who do not wish to compromise on quality and expect the best in purity and efficacy from their Omega 3 supplementation.
Each batch is tested for absolute purity and is free from heavy metals and contaminants with a market-leading TOTOX score of no more than 5 at encapsulation. Our triglyceride fatty acids deliver an impressive 400 mg of EPA and 300 mg of DHA in each 1000 mg capsule, providing a clean and pure product with the cardiovascular and cognitive benefits of Omega 3.
Pair with these tests
 If you would like to determine whether you need to add in Omega 3 supplementation as a nutrient cofactor to support your genotype, then we recommend that you order one of the tests below:
Use | Tips
Take one Veggie Cap daily at night or as directed by your healthcare practitioner. 
Storage
Store in a cool, dark, dry place.