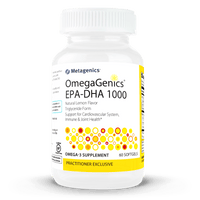 Triglyceride Form Helps Support Brain, Cardiovascular, Musculoskeletal, & Immune System Health
OmegaGenics® EPA-DHA 1000 features a concentrated, purified source of omega-3 fatty acids in triglyceride form from sustainably sourced, cold-water fish. Each soft gel provides a total of 710 mg EPA and 290 mg DHA.
All OmegaGenics formulas are tested for purity and quality and stabilized with antioxidants to maintain freshness. Learn more about TruQuality® at WhyOmegaGenics.com.
MY DNA CHOICES. likes
This product is non-GMO and gluten-free.
Ingredients
Ingredients
Amount Per Serving
% Daily Value
Serving Size
1 Softgel
Servings Per Container
60
Calories
15
Calories from Fat
15
Total Fat
1.5 g
2%*
Cholesterol
5 mg
2%
Marine Lipid Concentrate
1.4 g
**
EPA (Eicosapentaenoic acid triglyceride)
710 mg
**
DHA (Docosahexaenoic acid triglyceride)
290 mg
**
Other Omega-3 Fatty Acid Triglycerides
100 mg
**
Other Ingredients
Marine lipid concentrate [fish (anchovy, sardine, and mackerel) oil], softgel shell (gelatin, glycerin, water), contains 2 percent or less of natural lemon flavour, mixed tocopherols (antioxidant), rosemary extract, and ascorbyl palmitate (antioxidant). Contains -  Fish (anchovy, sardine, and mackerel).
Serving size
Caution
Consult your healthcare practitioner if pregnant, nursing, or taking other nutritional supplements or medications. Keep out of the reach of children.
Storage
Keep tightly closed in a cool, dry place.
This product is manufactured in a facility that processes soy and fish.
*Percent Daily Values are based on a 2,000 calorie diet.
**Daily Value not established.
Medical disclaimer
Nothing on our website should be construed as medical advice and we encourage you to obtain professional advice before taking any action on the strength of information, ideas, or opinions expressed on this website. The products are not intended to cure or prevent any condition and we recommended that you contact your personal physician or doctor prior to the consumption of any product. We make no representations or warranties regarding the efficacy and/or suitability and/or fitness for purpose of the product including in connection with any condition.