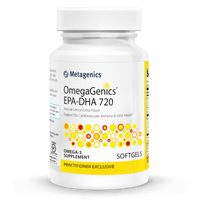 Advanced Support for Cardiovascular | Immune | Skin | Joint Health
OmegaGenics EPA - DHA 720 features a concentrated, purified source of pharmaceutical-grade omega-3 fatty acids from sustainably sourced, cold-water fish.
OmegaGenics EPA DHA 720 offers 860mg EPA and 580mg DHA in a 3:2 ratio for a cost-effective, safe and well-tolerated option to help meet your daily omega requirements

The health benefits of high-quality fish oil can be beneficial for the skin. Fish oil nourishes the skin to help maintain a smooth, elastic texture and prevents wrinkles and improves healthy ageing.
A deficiency of EPA and DHA in the diet contributes to skin conditions, such as dandruff, thinning hair, eczema and psoriasis, as well as age and sun spots. Without essential fatty acids, too much moisture leaves the skin.
One of the biggest reasons fish oil leads to healthier skin is the fact that it can reduce inflammation, including sun-induced inflammation and provide sunburn relief. "The sunburn response is markedly reduced by dietary fish oil rich in omega-3 polyunsaturated fatty acids."
It has been shown that individuals taking fish oil equivalent to 1.8 grams of EPA had a significant reduction in symptoms of eczema after 12 weeks. Researchers believe that these effects may be due to fish oil's ability to reduce leukotriene B4, an inflammatory substance that plays a role in eczema.
Benefits | Features
Made with a natural lemon flavour to be taste-free and burpless

Helps reduce triglycerides, a risk factor for heart disease

Promotes eye, heart, immune, and skin health and healthy joints

Promotes emotional well-being and helps decrease mood swings

Helps alleviate cramps, nausea, breast sensitivity, irritability, and headaches

Supports strong bones in menopausal and postmenopausal women

Increases blood flow throughout the brain and body

Omega 3 fatty acids have shown to benefit those with conditions resulting from inflammation such as cancer, asthma, depression, cardiovascular disease, ADHD and rheumatoid arthritis
Omega 3 fatty acid is the body's natural anti-inflammatory, working to reduce the inflammatory process that leads to many chronic conditions
Higher intakes of EPA and DHA are associated with a positive mood, cardiovascular health and improved overall health
MY DNA CHOICES. likes
Gluten-free
Non-GMO
Packaged in recyclable material
Manufactured in a pharmaceutically licensed facility in Norway and third-party assayed for purity, quality and stability
Achieve a therapeutic dosage with no hidden toxins
Sourced from a selection of smaller, omega-rich fish that are wild, deep-sea caught, not farmed
No unnecessary chemicals or hormones added
Ingredients
Other Ingredients
Marine lipid concentrate [fish (sardine, anchovy, and mackerel) oil], soft gel shell (gelatin, glycerin, water), natural lemon flavour, natural lime flavour, mixed tocopherols (antioxidant), rosemary extract, and ascorbyl palmitate (antioxidant). Contains Fish (sardine, anchovy, and mackerel).
Directions
Take 2 soft gels 1-2 times daily with food or as directed by your healthcare practitioner.
Cautions | Warnings | Interactions
Consult your healthcare practitioner before use. Do not exceed recommended dosages unless on the advice of a healthcare provider. If you are on medication, taking nutritional supplements, suffering from any medical condition, pregnant, or breastfeeding, it is advisable to seek medical advice before starting any new food, supplement, or remedy. Do not use this product if you are allergic to any of the ingredients. Keep out of the reach of children.
Storage
Store tightly closed in a cool, dry, dark place.
Medical disclaimer
Nothing on our website should be construed as medical advice and we encourage you to obtain professional advice before taking any action on the strength of information, ideas, or opinions expressed on this website. The products are not intended to cure or prevent any condition and we recommended that you contact your personal physician or doctor prior to the consumption of any product. We make no representations or warranties regarding the efficacy and/or suitability and/or fitness for purpose of the product including in connection with any condition.