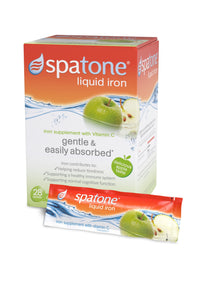 Spatone is a naturally occurring iron-rich water collected from a unique source tucked away in the heart of Snowdonia National Park in Wales. 
Benefits
Iron helps the normal release of energy from the food you eat and it helps reduce tiredness and fatigue
Iron also supports normal oxygen transport in the body, contributes to the normal function of the immune system and normal cognitive function.
MY DNA CHOICES. likes
Energy Release
Pocket size
Natural
Natural flavour
Without Alcohol
Gluten Free
No preservatives
Sugar-free
Easy to use
Safe for all the family
How much iron is needed?
Body iron content is approximately 4.0 and 3.5 g in men and women respectively. The body has no means of excreting excess iron, thus control of the body iron burden is by regulation of iron absorption. The only way in which iron is lost from the body is from shedding of cells from skin and mucosal surfaces, sweat (0.2–0.3 mg/day), urine (<0.1 mg/day), and hair. In premenopausal women, iron is also lost in menstruation. In healthy individuals, iron losses are thought to be approximately 1 mg/day in males and slightly more in women of child-bearing age because of additional losses due to menstruation, pregnancy and lactation. 
It is assumed that only 15% of dietary iron is absorbed. As a result, the Reference Nutrient Intake (RNI) for men aged over 19 and women aged 19-50 is 8.7mg/day and 14.8mg/day respectively. The RNI  falls down to 8.7mg/day for women of 50+ years.
Suitable for
All kids over 2 years old
Active men and women
Pregnant and post-natal women
Vegetarians
Elderly 
Use | Tips
To use, simply take it straight from the sachet or dilute it in juice high in vitamin C to increase iron absorption.
Directions for use
·        Adults & Children over 2 years: Take one sachet daily. 
·        Pregnant Women: Take two sachets daily.  

Do not exceed recommended use. If pregnant or breastfeeding, always consult with your doctor or midwife before taking Spatone®.
Keep out of reach of children.
Ingredients
Naturally sourced iron-rich water
Nutritional Information per sachet: 
·        Iron (Fe2+) 5mg (36% NRV*)

*Nutrient Reference Value
Storage
Store in a cool, dark, dry place.
Medical disclaimer
Nothing on our website should be construed as medical advice and we encourage you to obtain professional advice before taking any action on the strength of information, ideas, or opinions expressed on this website. The products are not intended to cure or prevent any condition and we recommended that you contact your personal physician or doctor prior to the consumption of any product. We make no representations or warranties regarding the efficacy and/or suitability and/or fitness for purpose of the product including in connection with any condition.