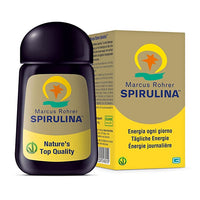 Grown in ocean waters, our Spirulina perfectly balances vitamins and minerals, to offer you the most complete natural food supplement on the planet.
MY DNA CHOICES. likes
The exclusive Miron® Violettglas glass favors the conservation of solar energy, to keep the original vitality of all the nutrients of Marcus Rohrer Spirulina intact. 

Vegan-certified. 
Benefits
Hawaiian sun .
The intense Hawaiian sunlight brings added value to Marcus Rohrer Spirulina, increasing its nourishing power and infusing it with a powerful boost of energy.
Pure waters .
In the deep basins of the Hawaiian tanks, the pristine ocean waters mix with the rainwater, to give our Spirulina a rapid and luxuriant growth.
Uncontaminated environment .
The ecosystem of Hawaii offers the cultivation of Marcus Rohrer Spirulina climatic conditions of rare purity, including bright sun, healthy air, lava soil and tropical forests.
Volcanic land .
The lava soil of the Hawaiian paradise is one of the secrets of the exceptional nature of Marcus Rohrer Spirulina, which is enriched with the substances collected from the waters of the tropical forest.
Ideal for
Beauty/skin
Pregnancy 
Sports people 
Immune function 
Brain health 
Ingredients
Spirulina Platensis thallus powder. Anti-caking agent: silicon dioxide; Inulin
Storage
Store in a cool,dry, dark place.
Medical disclaimer
Nothing on our website should be construed as medical advice and we encourage you to obtain professional advice before taking any action on the strength of information, ideas, or opinions expressed on this website. The products are not intended to cure or prevent any condition and we recommended that you contact your personal physician or doctor prior to the consumption of any product. We make no representations or warranties regarding the efficacy and/or suitability and/or fitness for purpose of the product including in connection with any condition.