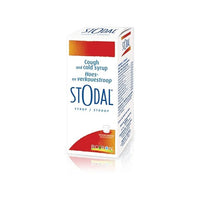 Stodal Cough & Cold Syrup
As documented in Homeopathic Literature, Stodal® cough syrup has a unique composition of ingredients to benefit patients with a wet or dry cough. Thanks to its homeopathic ingredients, Stodal® does not cause any drowsiness and contains no stimulants. Stodal® is suitable for use by adults, children, the elderly, as well as those individuals on chronic medication.
Ingredients
Anemone pulsatilla 6 CH – 0.95 g, Antimonium tartaricum 6 CH – 0.95 g, Bryonia 3 CH – 0.95 g, Coccus cacti 3 CH – 0.95 g, Drosera MT – 0.95 g, Ipecacuanha 3 CH – 0.95 g, Myocarde 6 CH – 0.95 g, Rumex crispus 6 CH – 0.95 g, Spongia tosta 3 CH – 0.95 g, Sticta pulmonaria 3 CH – 0.95 g, Tolu syrup – 19.00 g, Senega syrup – 19.00 g.
Use | Tips
Adults: Three x 5 ml medicine measures 3 to 5 times a day. Reduce dosage as coughing spells subside. Children (2-12 years of age): One medicine measure (5 ml) 3 to 5 times a day. Babies/Infants: Dilute 1/2 medicine measured in water 3 to 5 times a day. 
Cautions | Warnings
Contains sucrose and lactose. Persons intolerant to these ingredients should take this preparation only on advice from a practitioner. Always consult your pharmacist or doctor if symptoms persist.
Storage
Store in a cool, dry, dark place.
Medical disclaimer
Nothing on our website should be construed as medical advice and we encourage you to obtain professional advice before taking any action on the strength of information, ideas, or opinions expressed on this website. The products are not intended to cure or prevent any condition and we recommended that you contact your personal physician or doctor prior to the consumption of any product. We make no representations or warranties regarding the efficacy and/or suitability and/or fitness for purpose of the product including in connection with any condition.