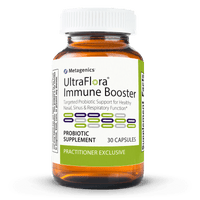 UltraFlora® Immune Booster
Targeted
Probiotic

Support for Nasal, Sinus & Respiratory Health

UltraFlora® Immune Booster provides a blend of highly viable, pure strains of "friendly" bacteria that have been clinically shown to support nasal, sinus, and respiratory health.
Benefits | Features
Features L. plantarum HEAL9 and L. paracasei 8700:2, a unique

probiotic

blend demonstrated in research to support respiratory health when taken daily for 12 weeks
Supports healthy nasal and sinus passages
Effective dose in just 1 capsule daily
MY DNA CHOICES. likes
Gluten-free
Non-GMO
Vegetarian
Packaged in glass
Packaged in recyclable material
Directions
Take one capsule once daily or as directed by your healthcare practitioner.
Cautions | Warnings | Interactions
Consult your healthcare practitioner before use. Do not exceed recommended dosages unless on the advice of a health care provider. If you are on medication, taking nutritional supplements, suffering from any medical condition, pregnant, or breastfeeding, it is advisable to seek medical advice before starting any new food, supplement or remedy. Do not use this product if you are allergic to any of the ingredients. Keep out of the reach of children. 
Storage
For best results, store tightly closed in a cool, dry, dark place or keep refrigerated. Stability studies indicate that all probiotics should be shipped under temperature control to maintain potency (CFU). This product has adhered to these conditions.
Ingredients
30 Capsules
Serving Size: 1 Capsule†
Servings Per Container: 30
Amount per 1 capsule:
| | | |
| --- | --- | --- |
| Ingredient | Amount | Daily Value |
| A 50:50 Blend of  | 1 billion live organisms††   | *   |
| Lactobacillus paracasei 8700:2 |    |    |
| Lactobacillus plantarum HEAL9 |    |   |
Other Ingredients
Starch, capsule (hypromellose, gellan gum), magnesium stearate (vegetable)