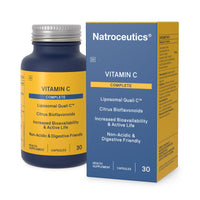 Using Quali C™ as our base – the market leader in Vitamin C – citrus bioflavonoids are added to create a synergistic and complete formulation. We then overcome the challenges of absorption and half-life by using an advanced liposomal delivery system (Cellg8™) which significantly increases systemic bioavailability. These high-quality materials improve gastro-intestinal tolerability and are easily digested.
There is no longer a need to take large doses of Vitamin C several times a day. Natroceutics Vitamin C Complete delivers enough bioactivity, with the included benefit of citrus bioflavonoids in a convenient single capsule taken once a day.
MY DNA CHOICES. likes
Delivers superior levels of Bioactive Vitamin C.

Enhanced with citrus bioflavonoids for a complete health benefit.

Market-leading quality through QauliC™.
Advanced delivery via liposomal Cellg8™.

Non-acidic and digestive friendly.

A convenient single capsule is taken once a day
Pair with these tests
If you would like to know whether you need to "add in" vitamin C as a nutrient co-factors for genetic expression or for deficiencies in your biochemistry, we recommend that you start with one of these tests:
Use | Dosage
1 daily or as prescribed by your healthcare practitioner. 
Storage
Store in a cool, dry, dark place.
Medical disclaimer
Nothing on our website should be construed as medical advice and we encourage you to obtain professional advice before taking any action on the strength of information, ideas, or opinions expressed on this website. The products are not intended to cure or prevent any condition and we recommended that you contact your personal physician or doctor prior to the consumption of any product. We make no representations or warranties regarding the efficacy and/or suitability and/or fitness for purpose of the product including in connection with any condition.