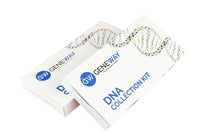 If you are truly interested in improving your overall health and wellness, why not test your genetic profile with GENECOMBO™.
You will discover your overall health, wellness, and youthfulness, in conjunction with your predisposition to weight gain. You will have valuable knowledge of your body's strengths and weaknesses, and establish your ideal eating plan, skincare routine, and exercise regime based on your unique genetic profile.
PLEASE NOTE
Your 90 min feedback session is NOT INCLUDED in the price of this test. Please visit our consultation fees. 
What is included in the test?
Included in this test are your lab report and a 90 min feedback session aimed at assisting you in determining your genotype so that you can make better,  more personalised health choices.
Number of genes tested
120 genes; including:
| | | |
| --- | --- | --- |
| ACE | COMT | SUOX |
| AGT | CRP | IL-1B |
| APOE | DAO | CYP1B1 |
| BDNF | FUT2 | IRS1 |
| CAT | PEMT | LPL |
| CBS | MAO-A | MCM6 |
| COMT | OGG1 | MMP1 |
| CYP1A1 | OPRM1 | MTHFR |
| BHMT-2 | NAT2 | MTR |
| HMOX-1 | GSTP1 | MTRR |
| NQO1 | PPARG | SULT1A1 |
| PON1 | SLC2A2 | TCF7L2 |
| ENOS | GSTM1 | TIMP4 |
| MNSOD | CYP17A | VDR |
| EPHX1 | IL-6 | ADRB2 |
| CLOCK | TNF-A | APOC3 |
| CETP | LIPC | ANKK1 |
| GPX | ADD1 | SHMT |
| FOXE1 | IL-1A | FABP2 |
| HFE | TMPRSS6 | MLH1 |
| EPHX1 | VEGF | DBP |
GENEWELL™
The GENEWELL™ test screens for genetic variations that are, or may affect your health.  You can reduce the susceptibility for the condition(s), by being proactive and implementing the science-based strategies recommended to you.  These may vary from modest changes in your environment, your diet, and physical activity or adjustments in the nutritional supplements you take.
GENEWELL™ tests for genetic variants involved in physiological processes that are linked to an increased risk for certain (lifestyle) diseases, including:
Blood clotting

Bone Health

Caffeine Metabolism

Cancer risk

Cholesterol and lipid metabolism

Circadian rhythms (sleep disorders)

Dementia

Detoxification

Dietary carbohydrate sensitivity

Dietary fat sensitivity

Drug metabolism

Exercise responsiveness

Heart disease

Homocysteine metabolism

Hypertension

Inflammation

Insulin sensitivity and risk for diabetes

Iron metabolism

Lactose Intolerance

Oxidative Stress

Vitamin-B metabolism

Salt Sensitivity

Stress and Mood Disorders (eg Depression / Anxiety)
GENEDIET™
Should you follow a low-carb or low-fat diet? Obesity is a very complex disease, and many factors can contribute to a person being overweight including their genes, behaviour, and the environment. Knowing your genetic predisposition to be overweight, can assist you to take the appropriate measures and guide you towards a suitable diet.
Your DNA plays a very big part in the regulation of your body weight. Studies show that up to 70% of your risk for being overweight is determined by your genes. Your DNA also provides information about your feeding behaviours, natural appetite control, the fat burning process, your genetic need for physical exercise in order to maintain healthy body weight, and your sensitivity to dietary fat and carbohydrates. 
GENESPORT™
Whether you are a recreational or professional sports athlete, optimise your training and athletic potential with the GENESPORT™ test.
The genes tested will outline your genetic potential

Preferred fuel and energy source during exercise

Response to caffeine

The risk of inflammation and injury

Ability to deal with oxidative stress

Muscle and bone composition

Endurance and power potential

Susceptibility to injury and Recovery time
GENERENEW™
Age fast, age slow, it's up to you! GENERENEW™ focuses on genetic factors for a young and healthy appearance. Personalise your needs for a youthful appearance and complexion by knowing your genetic profile.
Collagen synthesis

Skin anti-oxidation

Skin irritability

Skin detoxification

Skin cell renewal
Anti-ageing medicine and dermagenetics are founded on the application of scientific medical technologies for the early detection, prevention and reversal of age-related dysfunction.  Human ageing is not simply wear and tear.  Genes can influence the ageing process considerably, even though the environment is also important.  
The two main processes that induce skin ageing are classified as intrinsic and extrinsic. Intrinsic ageing, also known as the natural ageing process, is a continuous process that normally begins in the mid-20s. Extrinsic ageing is caused by environmental factors, such as sun exposure, air pollution, smoking, regular alcohol intake and poor nutrition. Both intrinsic ageing as well as how the body responds to extrinsic ageing are affected by genetics. 
Personalise your cosmetic support for a young and healthy appearance and give a genetic blueprint for your anti-ageing and skincare regimen.
Sample report
Sample type
Turnaround time