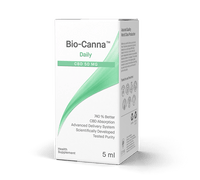 While cannabis and its phytocannabinoids (e.g. CBD) have many health benefits, is has low oral bio-availability. This means the majority of CBD taken through oral supplements are either not absorbed or are broken down by the liver before they reach the general circulation. Science has demonstrated that up to 94 % of CBD taken in commonly consumed supplements are not available in the bloodstream.
Bio-Canna™ is produced using a proprietary and break-through technology that ensures enhanced absorption bio-availability. Human clinical trials have shown that 1 hour after being taken, Bio-Canna™ delivers 740 % more CBD into the body than regular CBD supplements currently available. 
MY DNA CHOICES. likes
Free from heavy metals
Free from agrochemicals
Free from pathogens
No synthetic cannabinoids
Tetrahydrocannabinol (THC - 0,001 %)
No Genetically Modified Organisms
Delivers 740 % more bioactive CBD into the bloodstream
Advanced Liposomal Delivery System
Universally absorbed by everyone who takes it
Co2 Extraction process, free from harsh solvents or chemicals
Made from organically grown Cannabis sativa and free of any synthetics, pesticides or herbicides
Scientifically developed and validated through human clinical trials
State of the art manufacturing under GMP standards
Tested purity and quality
The bottle is made from recycled material
Pair with these tests
If you would like to determine whether you should add in Bio-Canna, we recommend that you do one of these tests:
Bio- Canna Daily
Concentration CBD: 50 mg
Size: 5 ml
Format: Dropper
Other cannabinoids: Full spectrum + terpenes
Extraction method: Co2
Country of Origin: USA
Other ingredients: Purified water, ethanol, natural flavors, GMO-free sunflower lecithin, stevia leaf extract (glucosyl stevioside) and glycerin.
Bio- Canna Advanced
Bio-Canna Professional
Dosage
Take 0.15 ml daily/3 drops.
Warnings
Do not use if you are pregnant or breast-feeding.
Storage
Store in a cool, dry, dark place.
Medical disclaimer
Nothing on our website should be construed as medical advice and we encourage you to obtain professional advice before taking any action on the strength of information, ideas, or opinions expressed on this website. The products are not intended to cure or prevent any condition and we recommended that you contact your personal physician or doctor prior to the consumption of any product. We make no representations or warranties regarding the efficacy and/or suitability and/or fitness for purpose of the product including in connection with any condition.