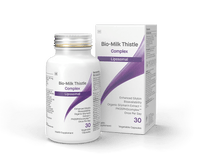 Milk thistle (Silybum marianum) is a medicinal plant with a rich history of use which started in the Mediterranean over 2000 years ago. In Greco-Roman times the leaves were used as an herbal remedy for a variety of ailments, particularly liver complaints. 
Today milk thistle is used for its medicinal benefits in support of liver function, detoxification, and healthy digestion.
What is Bio-Milk Thistle
BIO-MILK THISTLE is a western herbal medicine that is used to support liver function in adults 18 years and older. In addition, BIO-MILK THISTLE may help to relieve digestive disturbances or indigestion, including discomfort following overindulgence
The active components in milk thistle extracts are a group of chemical compounds collectively known as silymarin. Silybin is considered one of the most active constituents of silymarin.
Silymarin and silybin are antioxidants, in other words, they protect cells from damage caused by free radicals. Free radicals are toxic by-products of oxygen metabolism in living cells. These free radicals can cause significant damage to living tissues when produced in quantities that exceed the body's neutralising mechanisms. Stress, medicines, injury, alcohol consumption, and infections can all lead to increased generation of free radicals.
Due to its antioxidant properties, silymarin helps to protect cell membranes from damage induced by free radicals. Silymarin also stabilises liver cell membranes and prevents binding and penetration of toxins, such as ethanol, paracetamol, Amanita phalloides from poisonous mushrooms, and others. In addition, silymarin may help the liver to generate new cells and proteins to recover from injury.
Apart from its benefits as an antioxidant, silymarin also has anti-inflammatory properties. It may reduce the damaging effects of inflammation and prevent scar tissue formation.
Benefits of silymarin
Is a free radical scavenger that protects cell membranes from damage caused by toxins and oxidative stress
Increases total antioxidant capacity by increasing the levels of intracellular antioxidants, namely glutathione and superoxide dismutase (SOD)
Helps the liver to recover from injury
Has anti-inflammatory properties
Protects against scar tissue formation
MY DNA CHOICES. likes
Great for phase 1 liver detox
EU certified organic milk thistle extract which has been standardised to contain 80 % silymarin
Provides a full spectrum of flavonolignans responsible for its medicinal qualities
Proprietary formulation with increased bioavailability providing 10 times more silybin than some other formulations! Therefore, the dosage is less than that of several competing formulations and only ONE capsule per day is required
Suitable for vegans and vegetarians
Eco-friendly packaging that is fully recyclable
GMP (Good Manufacturing Practice) compliant
Tested for purity and free from Heavy metals, Pesticides, Genetically modified organisms (GMO), Artificial additives, Gluten
Pair with these tests
Each capsule contains
Bio-Milk Thistle                                                                           360mg
[European organic milk thistle (Silybum marianum L.) extract 200mg (80% silymarin)
PHOSPHOcomplex™ 160mg (phosphatidylcholine 104mg, silybin 56mg)]
Soya lecithin (certified GMO free), vegetable stearate.
Contains no known allergens, no sugar or gluten, no artificial flavours or preservatives.
Dosage | Use
Adults 18 years and older:
Take 1 capsule per day with food or as directed by your healthcare professional. Do not exceed the recommended dose.
Consult your healthcare professional before taking Bio-Milk if you are pregnant, take other medication or have any medical condition.
Store at or below 25°C.
Keep in outer container until required for use.
Protect from light and moisture.
Keep out of reach of children.
This unregistered medicine has not been evaluated by the SAHPRA for its quality, safety or intended use.
Health Supplement: Category D
Warnings
Patients with milk thistle, daisy, marigold, or ragweed allergy should not use Bio-Milk Thistle
There is no safety data for pregnancy – avoid the use
Diabetic patients should use Bio-Milk Thistle with caution due to its blood sugar-lowering effect and will require frequent monitoring of blood sugar levels
Women with hormone-sensitive conditions will require frequent monitoring due to its potential oestrogenic effect
Those taking any other medicines, including prescription, over-the-counter (OTC), and other complementary medicines, should ask their doctor, pharmacist, or healthcare provider about possible drug interactions

Safety
Milk thistle and silymarin are regarded as safe when used in the recommended dosage. Side effects most frequently involve the gut. It may have an occasional laxative effect. Less common effects include nausea, diarrhea, indigestion, flatulence, bloating, fullness or stomach pain, and loss of appetite.
Medical disclaimer
Nothing on our website should be construed as medical advice and we encourage you to obtain professional advice before taking any action on the strength of information, ideas, or opinions expressed on this website. The products are not intended to cure or prevent any condition and we recommended that you contact your personal physician or doctor prior to the consumption of any product. We make no representations or warranties regarding the efficacy and/or suitability and/or fitness for purpose of the product including in connection with any condition.