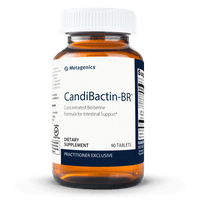 Intestinal Microbial Defense
CandiBactin-BR is formulated to support healthy microbial balance and the removal of unwanted compounds from the body.
Benefits | Features
Supports a healthy intestinal environment
Encourages the body to purge unwanted compounds
Features 400 mg per serving of berberine hydrochloride derived from berberis species, along with premium extracts of coptis and Indian barberry roots
Provides a proprietary extract of Chinese herbs that includes ginger, liquorice, and rhubarb to harmonise the action of other herbs within the formula
MY DNA CHOICES. likes
Gluten-free
GMO-free
Vegetarian
Packaged in glass
Packaged in recyclable material
Ingredients
90 Tablets
Serving size: 2 Tablets
Servings per Container: 45
Amount per 2 tablets:
| | | |
| --- | --- | --- |
| Ingredient | Amount | Daily Value |
| Coptis (Coptis chinensis) Root & Rhizome 12:1 Extract (containing berberine) | 30 mg  | *  |
| Oregon Grape (Berberis aquifolium) Root 4:1 Extract | 70 mg  | *  |
| Berberine HCI† | 400 mg  | *  |
| A 4:1†† Proprietary Extract of: | 300 mg  | *  |
| Coptis (Coptis chinensis) Root & Rhizome, Chinese Skullcap (Scutellaria baicalensis) Root, Phellodendron (Phellodendron chinense) Bark, Ginger (Zingiber officinale) Rhizome, Chinese Licorice (Glycyrrhiza uralensis) Root, Chinese Rhubarb (Rheum officinale) Root & Rhizome |   |   |
†Berberine from Phellodendron amurense bark extract
††Equivalent to 1200 mg raw, dried, unprocessed herbs
Other Ingredients
Microcrystalline cellulose, croscarmellose sodium, silica, stearic acid (vegetable), magnesium stearate (vegetable), and coating (hypromellose, medium chain triglycerides , and hydroxypropylcellulose)
Directions
Take two tablets two to three times daily or as directed by your healthcare practitioner.
Cautions | Warnings | Interactions
Consult your healthcare practitioner before use. Do not exceed recommended dosages unless on the advice of a health care provider. If you are on medication, taking nutritional supplements, suffering from any medical condition, pregnant, or breastfeeding, it is advisable to seek medical advice before starting any new food, supplement or remedy. Do not use this product if you are allergic to any of the ingredients. Keep out of the reach of children. 
Warning
Do not use if pregnant or nursing.
Storage                                                            
Store tightly closed in a cool, dry, dark place.
Medical disclaimer
Nothing on our website should be construed as medical advice and we encourage you to obtain professional advice before taking any action on the strength of information, ideas, or opinions expressed on this website. The products are not intended to cure or prevent any condition and we recommended that you contact your personal physician or doctor prior to the consumption of any product. We make no representations or warranties regarding the efficacy and/or suitability and/or fitness for purpose of the product including in connection with any condition.