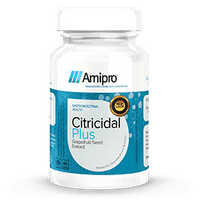 Powerful Antifungal | Antibacterial | Antiparasitic 
Citricidal is a potent extract from the ground seeds and pulp of organically grown grapefruit.  It has remarkable, quick-acting effects against infections inside the body, especially in the mouth, ears, vagina and blood, as well as on the skin.
Research has shown that grapefruit bioflavonoids have quick effects against infection. The quick acting effects of citricidal, berberine and Artemesia annua fortifies this formula and helping it work faster on a broader range of harmful microbes, in particular, Candida albicans.
Benefits 
Traditionally used to treat broad spectrum microbial infections 
May assist the body unwanted microbes from the gastrointestinal tract
Can be used to treat an overgrowth of Candida albicans
Grapefruit seed extract is strong and concentrated, so a little goes a long way

Grapefruit seed extract

is non-toxic and produces no side-effects
Berberine and Artemesia add further potency and effectiveness to this formula
More Info
What does Citricidal do?
Citricidal converts grapefruit bioflavonoids into an extremely potent compound that is totally biodegradable. The bitter grapefruit seed and pulp loaded with polyphenolic compounds, chemically converting into powerful, non-toxic broad-spectrum antimicrobials.
What does Berberine do?
Berberine possesses a wide range of antimicrobial activity. (Dr G.H.Rabbani et al Chicago 1987) The primary antimicrobial mechanism of Berberine is the inhibition of the microbial carbohydrate metabolism and protein synthesis. It also stimulates bile production.
What does Artemesia Do?
Artemesia Annua (wormwood) stimulates digestion. It has strong, microbicidal, and cleansing activity. Wormwood has been used in China for over 1500 years; The majority of current research revolves around its use as anti parasitic therapy.(Westphal et al).
Best suited for
Those who may need protection from parasites, fungus and bacteria
MY DNA CHOICES. likes
Gluten-free
Non-GMO
Vegetarian
Packaged in recyclable material
Ingredients
100 Vegicaps
Servings per container: 50
Serving Size: 2 Vegicaps
Amount per 2 vegicaps:
| | |
| --- | --- |
| Ingredients | Amount |
| Citricidal® standardised extract of grapefruit seed and pulp      | 375 mg |
| Artemesia annua (Chinese wormwood)          | 375 mg |
| Berberine HCL (Berberis aristata)           | 75 mg |
Other Ingredients 
Magnesium stearate, hydroxypropyl methyl cellulose
Directions
Take 2 vegicaps three times a day or as directed by your healthcare practitioner.
Cautions | Warnings | Interactions
Consult your healthcare practitioner before use. Do not exceed recommended dosages unless on the advice of a health care provider. If you are on medication, taking nutritional supplements, suffering from any medical condition, pregnant, or breastfeeding, it is advisable to seek medical advice before starting any new food, supplement or remedy. Do not use this product if you are allergic to any of the ingredients. Keep out of the reach of children. 
Storage
Store tightly closed in a cool, dry, dark place.
Medical disclaimer
Nothing on our website should be construed as medical advice and we encourage you to obtain professional advice before taking any action on the strength of information, ideas, or opinions expressed on this website. The products are not intended to cure or prevent any condition and we recommended that you contact your personal physician or doctor prior to the consumption of any product. We make no representations or warranties regarding the efficacy and/or suitability and/or fitness for purpose of the product including in connection with any condition.