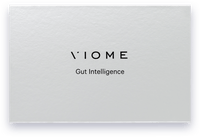 PLEASE NOTE: 
PRODUCT CANNOT BE SHIPPED OUTSIDE OF SOUTH AFRICA. 
When ordering this test online, you'll pay R750.00 at checkout for the test kit.
The balance of R4 290.00 will be paid to VIOME when registering your test kit with them and for the report that you will receive after your test sample has been analysed. 
If you choose to have an additional feedback session with us, this will be booked and invoiced separately at a later stage. 
Viome's Gut Intelligence Test provides comprehensive health insights about your gut microbiome that empower you to make the best lifestyle and nutrition choices for you. 
A resilient microbiome has a wide variety of microorganisms, able to perform a wide range of functions. Our high-resolution technology allows us to see these functions- what your microbes are actively doing- to give you scores that provide you with a clear picture of how your diet is positively, or negatively, contributing to the health of your gut microbiome and what you can do to improve it. 
MY DNA CHOICES. likes
Well priced, easy-to-do at-home test
Great support app
Pair with these DNA tests
To determine whether you have a genetic predisposition to a leaky GUT and/or intolerance/allergy to lactose and/or gluten; then we recommend that you order one of these DNA tests online:
Hear from satisfied clients
Sample type
Turn around time
2 weeks from when the sample arrives at the Viome lab in the US.
Sample reports
How to order
Have your instructions on ordering a kit from you, then:
Once you receive your kit, go onto the SA Viome website to pay for the testing fee.
This is done on the "order now" portion of the website.
You will need to pop in your barcode on the website when you register with us.
Test instructions
Collect your stool sample
Register on the Viome website/app
Complete and answer the questionnaires on the portal
Contact Hexa to arrange a collection of your sample which will then be sent to the lab in the US.
Wait for the lab to process your sample and send you your results & recommendations, which will be available in your Viome app