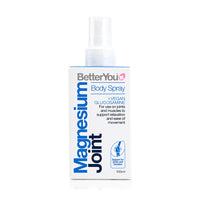 Magnesium Oil Joint Spray
Enhanced with glucosamine and menthol to help stay supple and flexible
BetterYou™ Magnesium Oil Joint Spray is formulated to support joint and muscle function, to help you stay supple and flexible. Scientifically proven to raise magnesium levels faster than traditional tablets and capsules.
Benefits
10 sprays deliver 105mg of glucosamine
Supports flexibility
Superior magnesium chloride quality
BetterYou Zechstein Magnesium commences absorption immediately when sprayed onto the skin
Enhanced with glucosamine for direct muscle and joint application with the cooling and calming effect of menthol
MY DNA CHOICES. likes
Magnesium is essential for optimising calcium absorption and promoting joint health and normal muscle function. Glucosamine sulphate is believed to encourage cartilage formation and helps maintain joint lubrication, promoting strength and movement.
Coupled with aiding joint health and flexibility, magnesium plays a vital role in overall wellbeing, improved sleep and increased athletic performance.  
Pair with these tests
To check if you should include this product in your daily supplement protocol, you can order the following DNA and/or biochemistry tests online:
Use | Tips
Spray on the body and massage well into the skin. Ideally after showing. Concentrate on joints, muscles, and areas of concern.
For best results, apply to clean skin. Reapply whenever needed.
Apply anywhere on the body, avoiding delicate areas such as the eyes.
Suitable from 12 years of age, for children under 12 we recommend MagnesiumOil Original or MagnesiumOil Sensitive sprays which do not contain essential oils. For the same reasons, we also recommend MagnesiumOil Original spray for use during pregnancy and nursing.
The Magnesium Tingle
On the initial application, you may experience a slight tingling sensation. This may indicate low magnesium levels and is the result of the high-speed absorption of magnesium through the pores. This will pass with regular use and as absorption commences immediately, skin can be toweled off after massaging in.
Ingredients
Water, Concentrated solution of Zechstein Inside® magnesium chloride hexahydrate (water, magnesium chloride hexahydrate), glucosamine sulphate 2KCL (from fish and crustaceans), menthol flavouring natural, wintergreen essential oil, emulsifier; polysorbate 20.
For allergens see ingredients in bold.
BetterYou takes pride in its unique approach to absorption, delivery and stability testing and proudly uses natural, food-state, food-sourced ingredients wherever possible.
Proudly British made. Never tested on animals.
Storage
Store in a cool, dry, dark place.
Medical disclaimer
Nothing on our website should be construed as medical advice and we encourage you to obtain professional advice before taking any action on the strength of information, ideas, or opinions expressed on this website. The products are not intended to cure or prevent any condition and we recommended that you contact your personal physician or doctor prior to the consumption of any product. We make no representations or warranties regarding the efficacy and/or suitability and/or fitness for purpose of the product including in connection with any condition.