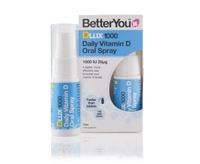 Oral Spray | DLux Vitamin D 1000
DLux 1000 is a convenient daily oral vitamin D spray. Specially formulated to deliver vitamin D directly into the bloodstream bypassing the digestive system.
MY DNA CHOICES. likes
Ideal for those who can't or don't enjoy swallowing pills. 
Pair with these tests
To determine your genetic variations for the key genes involved in vitamin D biogenesis and reception, we recommend that you order one of these tests online:
Pair with these genes
If you carry a medium to high impact genetic variation in one or more of these genes, then adding in D3 could provide additional co-factor support:
Use | Tips
Each daily dose contains 1000iu/25ug of vitamin D.

Dosage
Warnings
Keep out of children's reach. Consult your healthcare practitioner if pregnant or breastfeeding.
Ingredients
Purified water, xylitol, acacia gum, cholecalciferol (vitamin D3), sunflower lecithin (tricalcium phosphate, rice flour), citric acid, preservative: potassium sorbate, peppermint oil.
Storage
Once opened, use within six months. Store at room temperature and out of direct sunlight.